Acoustic guitars are an iconic symbol of our generation. They have made their way into pop culture and left a mark akin to the piano and the violin. They are well known for being friendly to new players, but at the same time, being extremely hard to master, with strumming techniques, funky chords, and much more.
We have a habit of not prioritising the quality of the guitar. While it is true that the music depends much more on the player, it is an undeniable fact that the guitar itself often defines the sound quality. This is true for Acoustic guitars because they do not use electronic amplification.
However, what factors to consider when you are looking for the right guitar? Irrespective of whether you are looking for the best guitars in India for beginners, best acoustic guitars in India or best guitars in general, you will need to consider a few things before you buy.
Best Guitars – Quick Comparison
You may also like…
Types Of Acoustic Guitars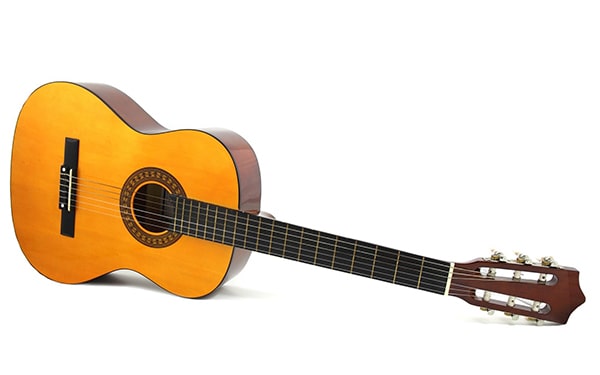 There is variety when it comes to acoustic guitars. This variety can be from the type of wood used, to the shape, and one of the most significant factors, the type of string used.
Based On String
The strings play a significant role in the sound quality of the instrument itself. Factors like string tension and whether a pick is required to play it play a part too. Playing steel guitars without a pick might be a hazard. In contrast, it is advisable to use your fingernails when playing classical guitar.
Steel Stringed Acoustic Guitars
These guitars are the modern evolution of the acoustic guitar which succeeded its Nylon counterpart. The steel strings give a brighter sound with considerably better amplitude. It is also the most commonly used acoustic guitar.
The tonewoods used in an acoustic guitar can vary widely but are usually a combination of woods which have pleasant sound quality. Steel stringed acoustic guitars were too prominent in the 1970s era of blues and country music. The skill level of these guitars is what you would expect of an average acoustic guitar; easy to pick up, hard to master.
Nylon Stringed Acoustic Guitar
The OG acoustic guitar, the Nylon stringed acoustic guitar is often referred to as the classical guitar. Using nylon material for the strings, this is the precursor to modern acoustic guitars, which predominantly use steel for their strings.
Playing a classical guitar rarely involved a pick, unlike modern acoustic guitars. The usage of fingernails/fingertips is common with nylon string guitars.
Based on Shape and Size
The shape of the guitar plays a significant role in the quality of the sound itself. There are multiple shapes and sizes in which guitars can come. The main thing to keep in mind is the kind of sound you expect from a guitar, and if the size is comfortable enough for you to hold it properly.
Dreadnought Guitars
A dreadnought guitar is known for having defining features of a relatively undefined waist. It is also noticeably larger compared to the other types of guitars.
These guitars got their names from the Dreadnought class ships which were owned by the European powers of the time. These ships were prominent in World War 1.
It is the typical guitar that people associate with when they talk about guitars. Because of its large size, it has a loud and bass intense sound. The size of the soundboard results in repeated reflection of sound inside the chamber, giving a reverberating effect.
The neck of dreadnought guitars is also relatively narrow. This is to facilitate playing chords overplaying individual notes(fingerpicking).
Parlour Guitars
These are the smaller guitars when compared to their dreadnought counterparts. They have a smaller waist, smaller body, and in general, more compact. Because of their smaller size, the sound they make is relatively low in terms of amplitude but higher in terms of pitch and frequency.
They became popular in the Americas in the 19th and 20th century, especially for their use in country folk and blues. These guitars became popular because of famous composers like William Foden, Winslow Hayden, etc.
Jumbo Guitars
Jumbo guitars are big guitars like their name suggests. You can compare it with a concert hall with space enough for a grand volume and sustaining dreadnought-like tones that are deep. Often considered the quintessential "cowboy" guitar.
As the name states, these guitars are large and have much resonant space. Having a large inner chamber volume results in more sustenance of the music. It is similar to dreadnought guitars in this sense.
Classical Guitars
The Classical guitar is the iconic guitar that we can easily recognise in many Spanish/ Latin American songs. Using nylon material for the strings, this is the precursor to modern acoustic guitars, which predominantly use steel for their strings.
These guitars go back to the baroque age, although they were much less common back then. They have morphed and changed over time when it comes to construction techniques, wood and materials used and playstyle, but have never lost significance in music culture.
Baby Guitars
As the name implies, it is a small guitar which gives much amplitude for its size. It is compact, sophisticated, and easy to carry when travelling.
This guitar is perfect for people who have smaller hands, as it makes it way more comfortable to play the guitar. The body consists of spruce or mahogany.
Hybrid Guitars
A Hybrid Guitars is an electric guitar which has sound quality akin to acoustic guitars. This is in addition to a typical electrical signal from a magnetic pickup. This is the equivalent of the electric piano of Acoustic, classical guitars.
Based on Construction
The construction of a guitar influences the level of reverberation of the sound created from string vibrations. This means that the construction of a guitar decides the loudness, sustain and dampness of a guitar.
Flattop Guitars
As the name implies, these are guitars which have a flat top bridge. You can find these steel-string modern acoustic guitars. The thickness of the top surface is responsible for the musical quality and tone of the guitar. Of course, it also depends on the density and the material of the surface. The vibrations of the string in these guitars happen in the lateral axis.
Archtop Guitars
These guitars have a distinct arched shape on the top. They have the usual six strings, and a 14th freck neck joint and a distinct hollow body. There is a noticeable dip in the middle of the arches where it meets the top of the guitar. The base plank has to be a little thicker to ensure stability after the dip has been carved into it to incorporate the dip in the arch. As this carving requires skilled work, these guitars are generally costlier than flat top guitars.
Based on Tonewood
Tonewood defines the base musical tone of the guitar itself. Various factors go into this, but mainly the density and intermolecular structure of the wood.
Solid Wood Acoustic Guitar
A solid wood acoustic guitar is one that uses a combination of carved solid pieces to construct the body of the guitar itself. It has multiple benefits, some of which include realistic sound quality and grain patterns which affect the musical tone. Tonewood ageing also is a huge factor to be considered.
These are usually too costly and used by professional acoustic guitar players. The best part of these guitars is their individuality. This is because various factors get introduced with tonewood ageing and granular differences, making every solid wood acoustic guitar unique. All of them are unique and amazing in their way.
Laminated Wood Acoustic Guitar
These guitars incorporate the use of plywood in their construction. Plywood is added as an additional layer over the inner body with the help of glue/adhesive. These guitars are significantly more cost-effective and durable, being able to withstand a wide range of temperatures and humidity. If you do not want to invest too much cash into your guitar, then this would be preferable.
Also check out Swami's take on the Best Cajon Drums In India
Top Guitar Brands in India
When it comes to India, top guitar brands align with ones that are available internationally, albeit with a slight variation in relative cost. There are multiple factors to keep in mind when choosing an ideal brand.
First, every brand has its way of manufacture and their specialities of guitar models.

Second, every brand has its recognition, quality, price range and availability.
Yamaha
The most popular brand for guitars in India, Yamaha gained massive popularity for providing excellent quality guitars and other instruments at an affordable price. They are well known and famous for their nylon string guitars.
Yamaha guitars are the go-to choice for people who are trying to get into playing the instrument but do not have the resources to invest in an expensive guitar. They are also quite well known for their affordable comfort and ease of use. As Yamaha has integrated adequately into our markets, there are numerous Yamaha stores where you can approach. Getting your guitar tuned/fixed is also more comfortable with Yamaha guitars in India.
Kadence
The Kadence company is a musical instrument that is of Indian origin. They are a part of Cresurge E-Business Solutions Pvt. Ltd. based in Bangalore. Kadence's bestsellers are guitars, ukuleles, amplifiers, and other musical accessories. They are also rated the best for cheap beginners guitars in India. Without compromising anything on sound quality, the guitars fall well within the affordable price range.
Fender
This company is known for having quite a history in the states when it comes to popularity. They are known for their fantastic quality and reputation, albeit with the trade-off of being exorbitantly priced. However, they do have a sideline of guitars which are not made in the US but are much cheaper than the natively built guitars.
Moving on to Acoustic guitars, Fender is known for their usage of lighter tonewoods. This means that their sound quality is much more rich and bright when compared to others you can find in the market.
Ibanez
Ibanez is a Japanese brand famous for its reliable guitars. They have an enviable reputation in the industry for their quality at reasonable prices. They are known for their electric guitars, but their acoustic guitars are not that far off from the top. The reason for their cheaper prizes is their production mantra, which focuses more on accessibility over being a pioneer. This also meant that the company has gotten tangled into legal battles over copying designs of other companies. However, in the end, those things are irrelevant to the consumer market.
Cort
They are one of the largest guitar companies in the world but have not established a foothold in India. It is up there with Fender when it comes to internationally recognised brands for professional guitarists. Being a foreign company that makes mostly professional guitars, you can face the issue of the cost being too high, especially in the Indian Market. Moreover, these guitars can only be found in a limited number of markets online.
Top Guitars in India – Review
There are multiple factors that you must consider before going for your guitar.
Quality-The Sound quality and the tone of the guitar you are going for can vary greatly, and one must always keep in mind.

Design- As mentioned before, various designs of acoustic guitars have their advantages, disadvantages and quirks. These things are important factors to keep in mind when buying a new guitar.

Aesthetic- Looks play a less important role than the other factors, but if we look good playing the guitar, we feel good playing the guitar.

Size- Simply put, buy guitars that are appropriate for your body size.

Comfort- This ties in with the previous point about personalisation. Your comfort should be a significant factor to take into consideration as playing with a guitar which you find uncomfortable can hurt your performance in the long run.
Now, let us go through a shortlist of what are the best guitars in India.
This guitar is one of the most popular Yamaha models out there. Being a dreadnought, it has a deep resonance to it. The top and the neck is entirely made out of spruce wood. It is pretty lightweight for a dreadnought. The fingerboard is also made of rosewood, to make sure that there is no excess stress on your fingers when you play this instrument. To top it all off, it is pretty budget-friendly for being a solid wood guitar. Moreover, it is also easy to play and pick up, making it the best guitar for beginners.
It does have the issue of looking a bit generic, but why let bad looks get in the way of your guitar playing. Being a dreadnought, it also means that there is a possibility of it being unwieldy to people who have small hands or torso.
---
One of the best acoustic guitars out there, this iconic guitar is one of the best guitars for fingerstyle playing. The comfort in using this guitar is outstanding and has a traditional vibe to it. It is relatively costly compared to the Yamaha models, but that comes with many advantages. To start, it comes with a glossy finish, which adds to the visual aesthetic. It also has a richer sound than the Yamaha, albeit comparable. It is also relatively durable for a solid wood guitar, and the nylon strings make it unique to fingerstyle playing. These strings do tend to lose flexibility if not played for a long time.
---
This semi-acoustic guitar has a reputation for being a reliable, consistent and beautiful instrument. It boasts incredible sound quality and has additional features to amplify sound. This includes the ability to connect to speaker output. Moreover, the fretboard has cut-aways present for reaching all the chords with ease. The fretboard also has a rosewood finish, adding on to the comfort and aesthetic. The guitar itself is pretty light for its size too.
It also is pretty light for its size and is one of the best semi-acoustic guitars in this list. Steel stringed guitars are not the most friendly to new players, and this is an essential factor to keep in mind before committing to this guitar.
---
One of the OG acoustic guitar models of Cort, this has become an icon among the acoustic guitars. It is also decently cheap for the quality it offers, which is excellent. It is also really comfortable to use and play and excels when trying to master strumming techniques. This guitar is one of the best guitars in India for strumming. It also has the "Dovetail Joint" which allows transmission of reverberations and vibrations without excess damping. This makes the sound distinct and clear.
---
This guitar gets to be one of the lightest acoustic guitars in this list, weighing about a 3 kg. It has a natural gloss finish, and is extremely user friendly, even though it is a steel-stringed guitar. The sound quality is impressive, and the visual aesthetic is excellent for its price. Even though it is similar to Yamaha models of a cheaper cost, there is a slight, yet noticeable difference in audio quality and clarity. If you are looking for the best in India, you are looking right at it.
---
This guitar is one of the higher-end guitars in this list, but it is worth the investment. It has the best sound quality in this list and is popular among the high-end dreadnought acoustic guitars. The body is made of mahogany, and the guitar has a neck with a rolled fingerboard. This makes it easy to play. That being said, this guitar is not recommended for people who want to dip their toes into guitar playing because of the initial monetary investment. If you are going to pursue guitar playing, and you have the cash to do so, this guitar is for you. It is also worth mentioning the fact that this guitar is heavy, but that is just a trade-off for the other excellent pros this guitar has.
---
This guitar is from the renowned company Hertz. It gets a 9-10/10 when it comes to style. The sleek black design of this guitar is a plus point. It is not the lightest guitar out there but is pretty light. This guitar is not the most beginner-friendly as it has many nuances that might go missed if you are starting to play this guitar. That being said, the audio quality of this guitar is top-notch if you know what you are doing with it. The grip might seem a bit tedious if you are new to playing the guitar. However, let us suppose you have an intermediate level of experience and/or a lot of time and patience. In that case, this guitar is definitely worth the absurdly cheap cost of under Rs 10000.
---
This guitar is definitely in the mid-range when it comes to budget, especially for a Yamaha guitar. That being said, it looks terrific, with the black and white contrast. It maintains its natural look, while at the same time being extremely functional. Moreover, it has the humbucker configuration, which gives much thickness to the audio quality of this guitar. It also has open chrome tuners, 14 frets with which you can play, and ease of handling. Although it is on the heavier side, that is an unfortunate trade-off for the other features this guitar has to offer.
---
This guitar is the jack of all trades of this list. It is not too heavy and light enough for it to be comfortable. The style is not something that stands out, but it looks neat, professional and classy. The audio quality is decent but not as good as the other guitars that cost more. Speaking of cost, this guitar costs around the middle of the pack in this list. It comes with a plethora of professional features. However, the interface is easy enough for a beginner to pick it up quickly. The strings are extremely durable, although they might face stiffening issues if used a lot. It had Chrome Die-cast tuners to assist more with audio quality. To top it all off, it has a rosewood fretboard for maximum comfort and minimum stress.
---
This guitar might look heavy, but that might be a little misleading. This weight includes all the additional gear that comes along with the guitar itself. This includes the guitar case, the amp cable, the capo, etc. This guitar is famous for its audio quality, ease and comfort while playing, and to top it all off, a comfortable fretboard that does not stress your fingers too much. It comes with an inbuilt equaliser and a demi cut-away which assists the user a lot in trying different methods and techniques. The design is lacklustre for its cost, but it more than makes up for it with its fantastic sound quality,
---
Also check out Swami's take on the Best Home Theatre Music Systems In India
Acoustic Vs. Electric Guitars
The guitars are widely classified into two basic types: acoustic and electric.
Both the guitars have significant differences as well as similarities too. They have six strings strung along a long neck that's divided into sections by pieces of metal called "frets" and both of them use tuning pegs to tune. You can observe a significant difference in the bodies of both the guitars.
The acoustic guitars were first ever made in the 1500s. Acoustic guitars have hollow bodies with a soundhole just below the strings. When you strum the strings of an acoustic guitar, the vibrations transmit through the bridge to the soundboard. The soundboard transfers these vibrations to the air inside the guitar chamber, after which, this sound gets amplified. The soundhole helps to project the amplified sound from within the hollow body.
The electric guitars were developed in 1920. An electric guitar is solid, has a thin body and does not have holes for sound amplification; hence an electric guitar's body neither transmits nor amplifies its string sounds. They use transducers instead of a large air cavity called "pickups" to convert string vibrations to an electric signal, which is then sent to speakers that amplify the signals.
Acoustic vs Acoustic-Electric Guitars
Traditional acoustic guitars do not need any amplification. Also, they rely entirely on a natural projection from the guitar's body. To add on, you will need a microphone to pick up the notes from traditional acoustic guitars for recording sessions.
Acoustic-electric guitars come with in-built pickup and amplification features to make it easier to record. They also have a plughole to attach an amp cable. Some models even have tuners built into the body of the guitar.
Final Verdict?
Acoustic-electric guitars are better for stage performances as loudness is a crucial factor in those cases.
For recording, both are satisfactory, but acoustic guitars are preferred as they give a more natural sound and reverberation.
You may also like…
Acoustic Guitars – Buying Guide
The acoustic guitar was first made in the 16th century. Over the years, it has evolved into numerous forms, shapes and sizes. The following are the types of acoustic guitar based on different criteria.
Body Material
Acoustic guitars are made in various laminated/layered woods or solid woods. This majorly depends upon the budget of the person buying it. Also, it depends on the brand itself. Low-cost guitars are typically made out of laminated wood, while expensive guitars are solid wood.
The difference between solid and laminate wood is the stacking of sections one on top of the other, and thin pieces that eventually add up to the same thickness as solid wood. The benefits of solid wood are that it produces a more resonant sound, albeit less durable.
Spruce
Spruce is one of the most commonly used woods in acoustic guitars. It is lightweight, strong, and has a flat frequency response letting the backwoods help define the sound.
Mahogany
Mahogany is used as a back wood but sometimes as a top wood as well. It has a very warm sound that can either mellow out a bright sounding top or make a small guitar sound massive.
Maple
Maple has a very bright-sound and a great attack. This wood is usually found on jumbo-sized guitars to help bring out the high-end sound. It is often used for a top but used as a back as well sometimes. Maple adds an aesthetic touch to the guitar as well.
Rosewood
Rosewood is the most expensive type of wood used for guitars. Rosewood has a scooped mid-range sound that makes both the lows and highs pop out. It is popular with both strummed and fingerpicked styles when matched with something like spruce.
Body Type
Dreadnought
This is the classic acoustic guitar shape developed in the 1920s by the Martin Guitar company. It is a bit square in shape and lacks the curves of the other body types. Moreover, it is also a little bulky.
Grand Auditorium
These guitars are becoming more popular by the day. It has a large body, which helps with depth of tone. At the same time, the narrow waist makes it comfortable to hold and play.
Grand Concert
These guitars are smaller in size. They also lack physical depth. They are pretty loud but lack the warmth of the previous body types.
Jumbo
The largest body type has the most resonant sound of the four body types. It was popularised by Gibson and has picked up recently. These can be uncomfortable to hold if your torso is proportionally small though.
There is also another factor of the cut-away body. They are popular in electro-acoustic guitars. These are rare in typical acoustic guitars as they compromise with the sound quality.
There are other niche body shapes. Some of them are-
Parlour Guitars: – A narrow-body with standard depth. The neck is pretty narrow, with 12 frets present.

Travel Guitars: – Small guitars which are ideal for travel and carrying around. A popular travel guitar type is the Baby Taylor.

Slim-Bodied Guitars: – Usually includes electro-acoustic guitars. These guitars are shallow. They are more comfortable to hold but have lacklustre performance when unplugged. This is the reason it is almost impossible to find pure acoustic slim-bodied guitars.
Style of Music
You can boil down style of playing to 2 distinct techniques; fingerpicking and using a guitar pick. Beginners start with a guitar pick as it is more welcoming to new people. However, you can see people opt out of using picks the more experienced they get.
Also check out Swami's take on the Best Karaoke Machines in India
Guitars – Frequently Asked Questions
Let's take a look at the most common questions customers may ask about guitars.
Which are the best acoustic guitars?
Yamaha F31 6 String Acoustic guitar

Ibanez GA16-NT 6 String Classical Acoustic guitar

Cadence Frontier Series Semi-Acoustic guitar

Cort Acoustic guitar AD810

Fender FA-115 Dreadnought
How much does an acoustic guitar cost?
A simple acoustic guitar which can be used by beginners to learn will cost approximately INR 7000 to 15,000. The range of prices can extend till approximately 30,000 INR for a higher quality product which will be more suited to the tastes of intermediate or advanced players.
What is an excellent acoustic guitar for beginners?
Based on our research, the Yamaha F310 6-String Acoustic Guitar is the best for beginners. The guitar is made of spruce with a rosewood fingerboard, which gives it a deep resonance. It is straightforward to pick up and play and causes minimum stress to the fingers.
How to choose a good acoustic guitar?
There are various factors a customer must look into when choosing a good acoustic guitar. The key factors to look into are the types of wood or laminate for the body material, body type size and weight, style of music, level of skill of the player and price. More information can be found above in the Buying Guide section.
Which type of acoustic guitar is the best?
A steel-stringed guitar is considered better than a classical nylon string guitar by a lot of modern musicians. It produces a more transparent and ringing sound.
Is a more expensive guitar more comfortable to play?
Usually, the price of a guitar depends on the price of the wood used, resonance and durability of the product. So, expensive guitars tend to produce more clear, ringing and resonant sounds. However, they are not necessarily more comfortable to play than cheaper or mid-range guitars. To sum it up, you can play better in a midrange guitar than play with discomfort on a high-end guitar.
Which acoustic guitar is the easiest to play?
The Yamaha F310 6-String Acoustic guitar is the easiest for beginners to pick up. Moreover, the wood texture and the weight and build of the guitar make it one of the most playable guitars currently on the market.
What are the top 5 acoustic guitar brands?
The highest-rated acoustic guitar brands are:
Ibanez

Fender

Ibanez

Taylor

Yamaha
Are Gibson acoustic guitars worth the money?
The amount of research and development that Gibson has carried out to produce a quality product and brand to maximise their quality, efficiency and aesthetics are one of the most profound in the entire industry. Thus, despite the high price tag, Gibson guitars may be a good investment for intermediate to advanced or professional guitarists. However, we do not recommend these guitars for beginners.
Are acoustic guitars better than electric guitars?
Electric guitars are supposed to be slightly easier to learn to play. However, they require an amp, which significantly reduces portability. The strings on an acoustic guitar are more firm. However, the sounds produced by acoustic and electric guitars are quite different. There is no type which is "better", but it is essential to choose the type which you intend to play.
Do guitar strings get worn out? How can I prevent this?
Yes, guitar strings can and do get worn out after sustained use. There is no way to "prevent" this per se; strings will snap or begin to come apart after extended periods. New strings are available for purchase, and it is easy to restring a guitar.
How often will I have to restring my acoustic guitar?
This depends on the amount of time you spend playing the guitar and the intensity of plucking required in the songs you choose. Usually, it should not exceed two times a year. A string will generally break when you need to restring the guitar. If you observe a loss of quality or clarity in the sound, it is a good idea to check if the strings are wearing out and need to be replaced.
Does an acoustic guitar need an amplifier?
No, acoustic guitars do not need an amplifier. An electro-acoustic guitar does need an amp though.
Will painting an acoustic guitar change the quality of the sound?
It is not a good idea to paint an acoustic guitar – paint is notorious for muffling and deadening the resonant quality of a guitar's sound.
Conclusion
The brand, size, weight and material of the guitar you choose to buy can make a significant difference in your experience with the product and the music produced. There are a number of factors to consider when trying to make a smart decision as a consumer. On the whole, we recommend Yamaha guitars due to their affordability and quality.
We hope this article lists options in the acoustic guitar market and help you identify your buying choice.
---
We hope you love the products we recommend! Just so you know, Swag Swami may collect a share of sales from the links on this page.
---