Table tennis also called ping pong, is one of the fastest-growing games in India. The success of our stars like Monika Batra, Sharath Kamal and G. Sathyan has increased the focus on the game and youngsters are flocking to take up the game and play. This guide is meant for beginners and intermediate players who want to consider playing table tennis seriously.
What Is A Table Tennis Racket?
You wouldn't even be reading this article if you have no idea what a table tennis racket is. Many players call it with different fancy names, a table tennis racket, table tennis paddle, or ping pong paddle. But they all are talking about a typical table tennis racket.
It is a small bat used by table tennis players. Unlike other rackets, it doesn't have a frame to be strung. The paddle is made of wood. Also, either side of the paddle is covered with a rubber layer, red and black on either side.
As the image shows, the paddle is made of wood, and the blade has layers of sponge and rubber. Likewise, you can have the paddle made up of carbon as well.
Best Table Tennis Rackets – Quick Comparison
Types of Table Tennis Rackets
As mentioned earlier, you have different options to choose from before buying a table tennis racket. A badminton racket can be of any size and weight. Most importantly, make sure to use natural wood for a minimum of 85% of the blade.
Customized
A professional or an advanced player builds his own custom bat. You have to choose a specific blade and separate rubbers for your forearm and backhand action. Additionally, you can customise the rubber's thickness and your paddle's hand and grip as well.
Ready-Made/Pre-Assembled Rackets
These are factory-made and available for you to use right away. The paddle comes with a preassembled blade, and the rubber is the same for forehand and backhand. Ready-made bats are for beginners who are just learning the game. With a ready-made racket, you won't have many variations to show.
Recreational Rackets
Similar to ready-made rackets, these can be used out of the box. All you have to do is to pick a suitable bat, order it and start playing. So, if you are not so serious about the game and are purely looking for some fun, you can purchase a recreational ping pong paddle.
Parts Of The Racket
A ping pong paddle is made up of rubber, sponge, blade and a handle. It is vital to get an insight into a table tennis racket's components if you choose a customised or preassembled bat.
Blade
The blade is the backbone from which a ping pong paddle is built. The material is either wood or carbon fibre. ITFF mandates that a minimum 85% of your blade should be made of natural wood.
Similarly, after wood material, carbon fibre is gaining popularity among the professional players now, for its speed. However, carbon blades are costly, and you shouldn't consider switching to it unless you are an advanced player and are looking for speed and variation.
As shown above, a blade's composition plays an important role in the racket's speed and how you control it for better shots.
How To Choose The Perfect Blade?
Before you choose a blade, you should determine your style of playing. You could either be a defensive, offensive or an all-rounder.
A racket could weight anywhere between 75-90 grams. Another key point to remember is that the blade comprises more than 50% of a racket's weight. A defensive player always chooses a lighter racket, all-rounders prefer medium to lightweight paddle, but offensive players need a heavy racket to play powerful attacking shots.
Defensive Style
If you are a defensive style advanced player, you should choose the blades categorised as defensive. These have flexible plies of wood for better control.
Offensive Style
An advanced player with attacking style prefers a heavier blade. In the first place, look for a blade that is under the offensive category. These blades have layers of wood where the outer layer is hard and rigid to aid an attacking shot.
All-Rounder
An all-rounder prefers his paddle to be neither too heavy nor too light. In general, if you are a beginner or an intermediate player who is just working on his skills should prefer a racket from the all-rounder category. The outer layer of wood is soft, and the inner layer is hard.
Rubber
It is important to realise that choosing a rubber is one of the key factors determining your game and style. It is covered on each side of your blade. As per ITFF (International Table Tennis Federation), a table tennis racket must have red and black coloured on either side, to make it easy to decide what kind of spin or stroke the opponent is playing.
Types Of Rubber
The rubber you use for your racket could be of different types. But make sure you use a rubber that complements your style.
Smooth Rubber
This kind of rubber has a flat and shiny surface with an underlying layer of sponge. This smooth surface provides a good spin for your game.
Pimpled Rubbers (Pimples-Out)
Table tennis rubbers can have two different types of pimples, one facing outwards and one facing inwards. The outward-facing pimples are pimpled rubber, or you can say as pimples-out. A ball hits the rubber with pimples facing out, whereas the smooth part is inside, facing the sponge. This type can have two variations, short and long pimples.
A short pimple is suited for attacking style of playing and long pimple for defensive players. Professional players who train to play a particular type of game opt for pimpled rubbers.
Pimples In
Obviously, the pimples are inward-facing, and the smooth side of the rubber is facing outwards. This is the most commonly used kind of rubber, also called the reverse rubber. Beginners and Intermediate players choose reverse rubbers as it gives them good control and variation of strokes.
Sponge
The sponge is sandwiched between the rubber and the blade. When building a customised racket, your blade, rubber and sponge combinations are interrelated.
A thicker sponge gives you more speed and spin. So, the shots are more attacking and offensive. Although it adds weight to your racket, offensive and all-round players prefer thicker sponge.
Nevertheless, a thinner sponge makes your paddle lighter and gives you more control. These are best suited for defensive players.
However, when you custom-build your paddle, the blade and sponge comes in one piece, and you can buy them together.
Handle
There are about six types of handles from which you could choose.
Flared Handle (FH)
FH is best suited for offensive forehand players, to get better angles when you play a shot. These blades are lighter in weight, so your blade becomes head heavy. Head heavy blades are preferred by dominant and attacking players for better shots control.
But sometimes flared handles are small, making you feel you might lose the grip of your paddle while playing a rally or an attacking shot.
Round Straight Handle (RSH)
This is under the category of Straight handles, preferred by European players. Round straight handles have a better balance between forehand and backhand with consistency.
Square Straight Handle (SST)
Square Straight handles are good to control your style and have a good forehand backhand transition. These are under the category of Straight Handles as well.
Conical Handle (CH)
These are almost same as the Flared Handles but have a circular bottom. This is not the most popular types preferred by professional players.
Chinese Penhold (CPen)
Penhold style players prefer this handle. A Chinese Penhold handle gives you a nice wrist balance for better movement of your wrist. Moreover, these are best for service and players who play close to the table with a strong forehand.
Anatomic Handle (UTCan)
An attacking hitter prefers this handle, used predominantly by the professionals in the United States. Still, these are not good for looping and long-distance shots.
Glue
If you are building your paddle, you need a decent glue to stick the rubbers and sponge to the blade. Most importantly, do not use any super glue and ensure the glue is not highly volatile.
Custom build paddles demands for constant change in the rubber. So, you can purchase a descend brand of glue and use it regularly.
How To Grip Your Racket/Grip Style
There are two distinct grip styles when you hold a ping pong paddle. Let's discuss further in this section.
Shakehand Grip
In general, Western and European players use the shake-hand grip style, also called the Western grip. One of the commonly used grips, you hold the racket with your hands as if you are shaking hands, hence the name Shakehand grip. With this grip, you have balanced power distribution for both offensive and defensive tasks.
Penhold Grip
A Penhold grip is common in the Asian countries, especially in China and Japan, where you hold the paddle's handle between your thumb and forefinger. Though not recommend for a novice, orthodox advanced players opt for this style of playing.
There are specific penhold blades to suit a penhold grip and style of playing. If you are a penhold style player, you should go for a custom made paddle with blades designed for penhold grip.
Top Table Tennis Racket Brands in India
Now that we know a few things about ping pong paddles and their types. Let's look at some of the top brands available for you from which to choose.
Stag
'Stag' is a renowned multi-sport brand that caters to more than 200+ countries. From the time when it was started as a family business, it has come a long way serving the sporting community for generations. Not just table tennis, they sell products and sports equipment for various other sports as well—for instance, netball, basketball, wrestling, judo, etc.
GKI
GKI – or GK Industries is a high-quality table tennis equipment manufacturer and is based out of Meerut. They are renowned for producing superior class products within an affordable price range. Likewise, their website has an excellent range of table tennis rackets, balls, blades, rubbers, etc.
Palio
Palio is a popular Chinese table tennis brand. They have joined hands with Expert Table Tennis, a table tennis community to create amazing custom-made bats at an excellent price range. Their pre-made bats are not the typical ones we find in the market. They are made from a different combination of rubber and blade to suit players of different ranges and expertise.
Stiga
STIGA is one of the world's leading Swedish table tennis company, established in 1944. They develop table tennis products for recreational and professional players. Besides table tennis, they manufacture a wide range of other indoor and outdoor sports equipment as well.
Joola
JOOLA is yet another chief manufacturer of table tennis tables and table tennis equipment since 1952. They have partnered with the NATT (North America Table Tennis) to establish their stronghold in the United States. Furthermore, JOOLA's products include rackets, balls, rubbers, and other accessories, including apparel.
Also check out Swami's take on the Best Badminton Rackets in India
Top Table Tennis Rackets in India – Review
Every table tennis player wants to own the best table tennis racket in India, but it is indeed a herculean task with so many options available. You have to meticulously look at the rackets' factors and features before deciding on a good one—for instance, the rubber type, speed, skill level, and price, to name a few. To make your job easy, this guide helps you decide the one best suited for you.
One of the best table tennis rackets under 5000 and a definite pick if you are looking to improve your game. The rubber is ITTF approved and pimpled out. Indeed, you will be able to get a good spin, both topspin and backspin from this bat.
Given these points, this paddle is best suited if you want to progress to the next level. Advance players can generate maximum stroke from the spin they are trying.
Though the racket is a little heavier, it produces a tremendous amount of spin to your shots. This is of the professional table tennis bats that come with an excellent cover and well-designed handles.
---
Eastfield's professional TT racket is a good choice if you are looking to buy table tennis rackets online. It has a soft 2.1mm rubber to provide you with spin and stability. Likewise, it is neatly crafted an well designed to give you good spin and excellent speed. Go for this racket if you want to progress in your game, you will complement your opponents for a good speed in your game.
At the same time, I would not suggest this paddle for a beginner or someone just learning the game.
---
JHOOLA Spirit racket set comes with two ping pong paddles and three celluloid balls with a convenient bag to carry it around. They are not only light but also have a smooth rubber surface for better spin. They are best suited for casual games.
Even though they come in a pair along with an extra set of balls, I feel it is a little overpriced, given the fact that these are for beginners and casual players.
---
Generally speaking, Palio and Expert Table Tennis, design excellent paddles to suit every player's needs. This racket is another good product from this table tennis brand. This product was one of the first collaboration between Palio and Expert Table Tennis. They redesigned the blades to give you better control and spin to improve your game.
But, amazon customers complain that the rubber is wearing off after a few games.
---
Joola Cobra rackets are ideal for beginners and intermediate players with rubber and foam covering. The blade is made of carbon material and helps in offensive playing, and you get excellent topspin. But they have a tiny sweet spot, that might be difficult for a few players.
Overall, this is your best bat for the best price.
---
These are one of the excellent table tennis bats for beginners under Rs.1700. Stiga's Master series has an excellent quality of rubber that's ITFF approved to give you a good spin and decent control. I would recommend this decent bat for beginners to get the hang of the game.
A two-star bat provides more speed compared to a one-star racket and helps you improve your technique. This is for people who are new to this sport but are interested in taking things up a notch. So, you think you belong to this category, then go for it.
---
Advertised as one of the best offensive bats, these GKI rackets indeed live up to the expectations. After all, these rackets are manufactured to bring perfection for aggressive players. The manufactures check the quality of the imported raw materials for the bats to last longer. This is one of the best rackets as you get outstanding balance, and it has a long handle and thick blade to give you more power.
The racket offers you exceptional control to generate a good topspin. Most importantly, these offensive rackets help you block shots easily.
Do watch out for duplicate rackets and make sure you order from a known seller from Amazon.
---
This is a perfect stag table tennis racket for beginners and intermediate players. I would say this is one of the best table tennis rackets under 1000. Above all, the rubber's red side is of power drive, and the black side of the rubber is of stag super, so you get the qualities of two different paddles in one.
Yet a few negative remarks are complaining about the quality of the paddle's handle and rubber.
---
This is a perfect bat for beginners and casual players. Stiga Peak Table tennis racket is best suited for aggressive and defensive players; hence you could say this is a neutral racquet.
Though this could be a good table tennis racket you can find online for recreational players, a few drawbacks stand out. The rubber wears off after a few games, and there is no spin. At the same time, the racket makes a loud noise every time the ball hits the racket. Even the wooden handle has sharp edges making you uncomfortable to hold the paddle after a few moments of play.
---
Also check out Swami's take on The Best Cricket Bats That You Can Buy In India
How To Choose Table Tennis Racket Brands in India – Buying Guide
Let us look at the factors to consider before getting a good table, tennis racket. I am mentioning a few factors like the material used to build, Style and Type of playing, Power, Control and Cost.
Overall Material
Blade, Rubber, Sponge, and Handle are responsible for building a perfect custom paddle. Even if you buy a pre-made racket, you should look for bats made with a decent blade and rubber.
The rubber's characteristic plays a vital role in the performance of your bat, so thats one of the primary factors for you to choose. If you are an attacking player, choose a faster rubber and a slower rubber for your backhand. That is to say; you can have a thicker rubber for attacking shots and a thinner runner for slower backhand shots.
At the same time, the blade material is also essential. A blade can be made of wood or carbon, and carbon is lighter than a wooden blade. However, if you choose to buy a carbon blade, be mindful that ITFF mandates 85% of your bat is made of natural wood.
Player Type
The type of player you are, for instance, an aggressive or a defensive is also essential when you pick a racket that would best suit you.
As shown above, different types of players choose different blades and rubbers. To place a perfect shot, this is the key.
Playing Style
Table Tennis is one such game with many techniques, styles and types to define a player. A table tennis player or a paddler could have different styles, for instance, a penhold style or a shake-hand style. If you are a penhold player, you should choose a penhold handle for your paddle, but if you are a front-hand player, choose a flared handle (FH).
Power
To have power in your game, and to make faster and better shots, choose your rubber wisely. As already mentioned before, choose a thick rubber to play fast and aggressive shots. If you are a regular player dont forget to change your rubber every 3-6 months.
Control
Power, Control and Spin go hand in hand. You gain a factor at the cost of losing the other. A paddle's design determines the control you might have over the ball. So, the more speed and spin you have in your paddle, the less you can control it. If you go for a thicker rubber to give you more speed and spin, you get less control. A beginner should go for a thinner rubber to get a good hold and control of the game, rather than looking for speed.
Spin
Likewise, the less control you have over your paddle, the more you can generate a good speed and spin. So for better spin, go for thicker rubber.
Price
The cost you pay for a paddle should be justified. So, this is one of the crucial components. A recreational player who occasionally plays for fun doesnt have to spend a fortune on a ping pong paddle. Nevertheless, an intermediate or professional who regularly plays in leagues and tournaments should shed a few thousands to invest in an excellent custom-made racket. Indeed, you can always go for some budget-friendly bats and then upgrade based on your style and type of game.
How To Clean Your Rackets
One thing is to buy a proper paddle, but the other thing is to maintain it. I have to mention that the important thing we could clean is the rubber, which is the most expensive part of a paddle.
Cleaning With Water
The pretty straightforward way is to clean your paddle with water after every game. Dust, dirt and sweat sticks on top of the rubber because it's smooth. This doesn't give you a good spin and turn. Sprinkle some water and wipe off the extra dirt using a dry cloth or a tissue.
Cleaning With A Cleaning Kit
Rubber wear off and deteriorate over a period of time, but you can clean your rubbers with the right solution for it to last longer. You can find a good cleaning solution kit and sponge online. After cleaning it regularly, you can see a difference in the speed and spin your racket generates.
Apart from these, you can maintain your bat with a good case, and get rubber protectors for your rubber.
Table Tennis Rackets – Frequently Asked Questions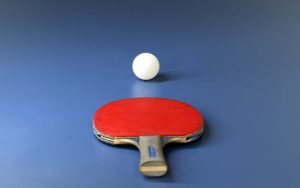 Let us look at the frequently asked questions for table tennis rackets.
What Is A Table Tennis Racket?
Table Tennis is a 2-player or a 4-player sport, where you hit a table tennis ball with a paddle or a table tennis bat.
Why Does A Table Tennis Paddle Have Red And Black Sides?
The rubber's red side helps the ball go faster, and the black side is good for a decent topspin. Additionally, the opponent knows the side you use to make a shot.
Is Regular Cleaning Required?
For your paddle to last longer, clean and maintain your paddle regularly.
How To Clean A Paddle?
You can clean the rubber of the paddle with water or with a cleaning solution and sponge.
What Is ITTF?
International Table Tennis Federation is the supervising body for all the national table tennis associations.
Does ITFF Have Any Regulations For Paddles?
ITFF has to approve the rubber used by a professional player to look for ITFF approved blades. ITFF requires you to use 85% of natural wood while choosing your blade.
Is Carbon Blade Good?
Yes, carbon blades are lightweight and give you added speed.
Conclusion
To sum up, choosing a perfect table tennis racket could be a never-ending process unless you exactly know what you are looking for. If you are an intermediate player trying to refine your game, I w0ould recommend the Palio Legend 3.0 Table Tennis Racket . This bat gives you a good topspin and backspin. Costing around Rs 1000, GKI Table Tennis Racket is suitable for beginners. As a beginner, you get reasonable control to play good offensive shots. Given these points, pick one that works out well for you and start playing.
---
We hope you love the products we recommend! Just so you know, Swag Swami may collect a share of sales from the links on this page.
---