Table tennis, also known as ping pong, is gaining immense popularity in India. The achievements of players like Monika Batra, Sharath Kamal, and G. Sathyan have sparked a growing interest in the sport, attracting young enthusiasts who are eager to take up table tennis seriously. This comprehensive guide is designed specifically for beginners and intermediate players who are considering diving into the world of table tennis.
What Is A Table Tennis Racket?
If you're reading this article, chances are you are already familiar with what a table tennis racket is. It is often referred to by different names such as table tennis paddle or ping pong paddle, but they all pertain to the same essential equipment.
A table tennis racket is a small bat used by players in the game. Unlike other racket sports, it does not have a strung frame. The paddle is made of wood, with each side covered by a rubber layer—typically one side in red and the other in black.
As shown in the image, the paddle consists of a wooden blade with layers of sponge and rubber. Alternatively, carbon can be used to construct the paddle as well.
Best Table Tennis Rackets – Quick Comparison
Types of Table Tennis Rackets
Before purchasing a table tennis racket, it's important to understand the different options available. Unlike badminton rackets that come in various sizes and weights, a table tennis racket should have a blade made of natural wood, constituting at least 85% of the construction.
Customized
Professional or advanced players often prefer to build their own custom rackets. This involves selecting a specific blade and separate rubbers for the forehand and backhand actions. Additionally, the thickness of the rubber and the grip of the paddle can be customized to suit individual preferences.
Ready-Made/Pre-Assembled Rackets
These rackets are manufactured in factories and are ready to use right away. They come with a preassembled blade, and the rubber is the same on both sides for the forehand and backhand. Ready-made rackets are ideal for beginners who are still learning the game. However, they offer limited variations in terms of performance.
Recreational Rackets
Similar to ready-made rackets, recreational rackets can be used straight out of the box. All you need to do is select a suitable racket, make the purchase, and start playing. If you're not looking to pursue the game seriously and simply want to have some fun, a recreational ping pong paddle is a suitable choice.
Parts Of The Racket
A table tennis racket, or ping pong paddle, is composed of several parts, including the rubber, sponge, blade, and handle. Understanding the components of a table tennis racket is crucial, whether you opt for a customized or preassembled bat.
Blade
The blade forms the foundation of a ping pong paddle. It can be made of either wood or carbon fiber. The International Table Tennis Federation (ITTF) specifies that a minimum of 85% of the blade should be constructed from natural wood.
While wood is the traditional material, carbon fiber blades are gaining popularity among professional players due to their increased speed. However, carbon blades tend to be more expensive, and it is advisable to consider them only if you are an advanced player seeking enhanced speed and variation.
As depicted above, the composition of the blade significantly influences the racket's speed and your control over it for better shots.
How To Choose The Perfect Blade?
Before selecting a blade, it is important to determine your playing style. You may identify as a defensive, offensive, or all-rounder player.
Rackets can weigh anywhere between 75 to 90 grams, with the blade constituting more than 50% of the racket's weight. Defensive players typically prefer lighter rackets, while all-rounders opt for medium to lightweight paddles. On the other hand, offensive players require heavier rackets to execute powerful attacking shots.
Defensive Style
If you are an advanced player with a defensive style, you should choose blades categorized as defensive. These blades feature flexible plies of wood to enhance control.
Offensive Style
Advanced players with an attacking style prefer heavier blades. Look for blades classified under the offensive category. These blades have layers of wood, with the outer layer being hard and rigid to facilitate powerful attacking shots.
All-Rounder
All-rounders favor paddles that are neither too heavy nor too light. Generally, beginners and intermediate players focusing on skill development should opt for rackets from the all-rounder category. These blades have a soft outer layer of wood and a hard inner layer.
Rubber
Choosing the right rubber is a crucial factor in determining your playing style and game performance. Rubber covers each side of the blade. According to the ITTF regulations, a table tennis racket must have red and black rubber on either side, making it easier to discern the opponent's spin or stroke.
Types Of Rubber
The type of rubber you choose for your racket can greatly impact your playing style. It's important to select a rubber that complements your individual preferences.
Smooth Rubber
Smooth rubber features a flat and glossy surface with a layer of sponge underneath. This type of rubber provides excellent spin capabilities for your game.
Pimpled Rubbers (Pimples-Out)
Table tennis rubbers can have two types of pimples: outward-facing and inward-facing. Pimpled rubber, also known as pimples-out, refers to rubber with pimples facing outwards. When a ball strikes the rubber, it interacts with the outward-facing pimples while the smooth part remains inside, facing the sponge. Pimpled rubbers come in two variations: short and long pimples.
Short pimples are well-suited for an attacking style of play, while long pimples are preferred by defensive players. Professional players who specialize in a particular style often choose pimpled rubbers for their rackets.
Pimples In
In this case, the pimples are inward-facing, and the smooth side of the rubber faces outward. This is the most commonly used type of rubber, often referred to as reverse rubber. Beginners and intermediate players opt for reverse rubbers as they provide good control and stroke variation.
Sponge
The sponge is situated between the rubber and the blade of the racket. When customizing your racket, the combination of blade, rubber, and sponge is interrelated.
A thicker sponge provides greater speed and spin, resulting in more aggressive and offensive shots. However, it also adds weight to the racket, making it a preferred choice for offensive and all-round players.
On the other hand, a thinner sponge reduces the weight of the paddle and offers improved control. This type of sponge is well-suited for defensive players.
When customizing your paddle, the blade and sponge are typically purchased together as a single unit.
Handle
There are six types of handles available for you to choose from:
Flared Handle (FH): This handle is ideal for offensive forehand players as it allows for better angles when playing shots. Flared handles are lighter in weight, making the blade head-heavy. They are preferred by dominant and attacking players who seek better control over their shots. However, some flared handles may feel small and may pose a risk of losing grip during intense rallies or attacking shots.
Round Straight Handle (RSH): This type of handle falls under the category of straight handles and is favored by European players. Round straight handles offer a better balance between forehand and backhand strokes, ensuring consistency in performance.
Square Straight Handle (SST): Square straight handles also belong to the category of straight handles and provide good control for players transitioning between forehand and backhand shots.
Conical Handle (CH): Conical handles are similar to flared handles but have a circular bottom. They are not as popular among professional players.
Chinese Penhold (CPen): This handle is preferred by players who use the penhold style of grip. A Chinese penhold handle offers a balanced grip that facilitates wrist movement. It is particularly well-suited for players who prefer strong forehand shots and play close to the table.
Anatomic Handle (UTCan): This handle is commonly used by attacking hitters, primarily by professionals in the United States. However, it may not be suitable for players who rely on looping and executing long-distance shots.
Glue
When building your own paddle, you will need a decent glue to adhere the rubbers and sponge to the blade. It is important not to use super glue and to ensure that the glue is not highly volatile.
Custom-built paddles often require frequent changes of rubber, so it is advisable to purchase a reliable brand of glue and use it consistently.
How To Grip Your Racket/Grip Style
There are two distinct grip styles when you hold a ping pong paddle. Let's discuss further in this section.
Shakehand Grip
The shakehand grip, also known as the Western grip, is predominantly used by Western and European players. It involves holding the racket as if shaking hands, hence the name. This grip provides a balanced power distribution for both offensive and defensive tasks.
Penhold Grip
The penhold grip is prevalent in Asian countries, particularly China and Japan. With this grip, you hold the paddle's handle between your thumb and forefinger. While it is not recommended for beginners, experienced players who adhere to traditional playing styles may opt for the penhold grip.
There are specific penhold blades designed to suit this grip style and playing technique. If you are a penhold style player, it is advisable to invest in a custom-made paddle with blades tailored for the penhold grip.
Top Table Tennis Racket Brands in India
Now that we have explored ping pong paddles and their types, let's take a look at some of the top brands available for you to choose from.
Stag
Stag is a renowned multi-sport brand that operates in over 200 countries. Originally a family business, it has evolved to serve the sporting community for generations. In addition to table tennis, Stag offers a wide range of products and sports equipment for various other sports such as netball, basketball, wrestling, judo, and more.
GKI
GKI, also known as GK Industries, is a reputable manufacturer of high-quality table tennis equipment based in Meerut. They are well-known for producing superior products within an affordable price range. Their website offers an excellent selection of table tennis rackets, balls, blades, rubbers, and more.
Palio
Palio is a popular Chinese table tennis brand. They have collaborated with Expert Table Tennis, a table tennis community, to create amazing custom-made bats at an excellent price range. Their pre-made bats are not your typical off-the-shelf options; they are crafted from unique combinations of rubber and blades to cater to players of different skill levels and playing styles.
Stiga
Established in 1944, STIGA is one of the world's leading Swedish table tennis companies. They develop table tennis products for both recreational and professional players. Alongside table tennis, Stiga manufactures a wide range of indoor and outdoor sports equipment.
Joola
JOOLA is a prominent manufacturer of table tennis tables and equipment since 1952. They have partnered with NATT (North America Table Tennis) to establish a strong presence in the United States. JOOLA's product lineup includes rackets, balls, rubbers, and various accessories, including apparel.
These brands offer a diverse range of options to cater to different player preferences and requirements in the world of table tennis.
Also check out Swami's take on the Best Badminton Rackets in India
Top Table Tennis Rackets in India – Review
Choosing the best table tennis racket in India can be a daunting task due to the wide range of options available. Factors like rubber type, speed, skill level, and price need to be carefully considered. To simplify your decision-making process, this guide will help you find the racket that best suits your needs.
This racket is a top choice for players looking to enhance their game and is priced under 5000. It features ITTF-approved rubber with pimpled out texture, allowing for excellent topspin and backspin. It is particularly suitable for players who want to progress to the next level and generate maximum stroke through spin. Although slightly heavier, this professional-grade racket offers exceptional spin and comes with a high-quality cover and well-designed handles.
---
Ideal for online purchase, the Eastfield professional racket boasts a soft 2.1mm rubber that provides spin and stability. Its meticulous design ensures good spin and excellent speed, making it a great choice for players aiming to advance in their game. However, this racket is not recommended for beginners or those who are new to the sport.
---
The JHOOLA Spirit racket set includes two ping pong paddles, three celluloid balls, and a convenient carrying bag. These lightweight rackets feature a smooth rubber surface for enhanced spin and are best suited for casual games. However, considering that they are primarily designed for beginners and casual players, some may find the price slightly high.
---
Palio and Expert Table Tennis are renowned for designing excellent paddles, and this racket is no exception. It is the result of a collaboration between the two brands, with redesigned blades for improved control and spin. However, some customers on Amazon have reported issues with the rubber wearing off after a few games.
---
The Joola Cobra rackets are ideal for beginners and intermediate players, featuring rubber and foam covering. The carbon blade enhances offensive play and provides excellent topspin. It is worth noting that these rackets have a small sweet spot, which may pose a challenge for some players. Nevertheless, they offer great value for their price.
---
The Stiga Elite Table Tennis Racket is an excellent choice for beginners, with a price under Rs. 1500. It belongs to Stiga's Master series and features high-quality ITTF-approved rubber that delivers good spin and decent control. This racket is recommended for individuals who are new to the sport but have a desire to improve their game.
---
Advertised as one of the best offensive bats, GKI rackets live up to their reputation, designed to perfection for aggressive players. The manufacturer ensures the quality of imported raw materials to ensure durability. These rackets offer exceptional balance, a long handle, and a thick blade, providing players with more power. They also offer exceptional control for generating topspin and make blocking shots easier. However, be cautious of duplicate rackets and make sure to order from reputable sellers on Amazon.
---
Perfect for beginners and intermediate players, the Stag Table Tennis Racket is one of the best options under 1000. It features a power drive rubber on the red side and stag super rubber on the black side, combining the qualities of two different paddles in one. However, there have been some complaints regarding the quality of the handle and rubber.
---
The Stiga Peak Tennis Racket is suitable for beginners and casual players. It is considered a neutral racquet, suitable for both aggressive and defensive playing styles. However, some drawbacks have been noted, including rubber wearing off after a few games, lack of spin, and a loud noise when the ball hits the racket. Additionally, the wooden handle may have sharp edges, causing discomfort during extended play sessions.
---
Also check out Swami's take on The Best Cricket Bats That You Can Buy In India
How To Choose Table Tennis Racket Brands in India – Buying Guide
When it comes to selecting a table tennis racket, there are several factors to consider. Here are some key factors to keep in mind: the overall material, player type, playing style, power, control, spin, and price.
Overall Material 
The blade, rubber, sponge, and handle are crucial elements in building a high-quality racket. Even if you opt for a pre-made racket, ensure that it features a well-constructed blade and rubber. The characteristics of the rubber play a significant role in your racket's performance. For attacking players, a faster rubber is recommended, while a slower rubber is suitable for backhand shots. Thicker rubber is preferred for aggressive shots, while thinner rubber works well for slower backhand shots. Additionally, consider the material of the blade. It can be made of wood or carbon, with carbon being lighter. However, if you choose a carbon blade, ensure that it complies with ITTF regulations, which mandate that 85% of the bat must be made of natural wood.
Player Type
Your playing style, whether aggressive or defensive, is a crucial factor in selecting the right racket. Different player types require different blades and rubbers to achieve optimal performance.
Playing Style 
Table tennis offers a variety of techniques, styles, and playing types. The style you adopt, such as penhold or shake-hand grip, influences the type of racket handle you should choose. Penhold players should opt for a penhold handle, while front-hand players should select a flared handle (FH).
Power 
To enhance power in your game and deliver faster shots, choose your rubber wisely. As mentioned earlier, thicker rubber is suitable for fast and aggressive shots. Regular players should also keep in mind that rubber should be changed every 3-6 months to maintain optimal performance.
Control 
Power, control, and spin are interconnected factors. Increasing one may result in a decrease in the others. The design of the racket plays a role in the level of control you have over the ball. Rackets with higher speed and spin may offer less control. Beginners should opt for thinner rubber to gain better control, rather than focusing solely on speed.
Spin 
Generating spin depends on the level of control you have over your racket. Rackets with less control can produce more speed and spin. For enhanced spin, consider using thicker rubber.
Price 
The cost of the racket should be justified based on your needs and level of play. Recreational players who play for fun occasionally do not need to invest a significant amount in a paddle. However, intermediate and professional players participating in leagues and tournaments may consider investing in a custom-made racket. It is possible to start with budget-friendly options and upgrade as per your playing style and game requirements.
How To Clean Your Rackets 
Owning a good table tennis racket is one thing, but proper maintenance is equally important. One crucial aspect to focus on is cleaning the rubber, which is the most valuable part of the paddle.

Cleaning With Water
The simplest method is to clean your racket with water after each game. Dust, dirt, and sweat tend to accumulate on the rubber due to its smooth surface, which can hinder spin and control. Sprinkle some water on the rubber and wipe off the excess dirt using a dry cloth or tissue.

Cleaning With A Cleaning Kit
Rubber naturally wears off and deteriorates over time, but you can prolong its lifespan by using a suitable cleaning solution. Look for a reliable cleaning kit and sponge available online. Regularly cleaning the rubber with the appropriate solution can noticeably enhance the speed and spin generated by your racket.
Table Tennis Rackets – Frequently Asked Questions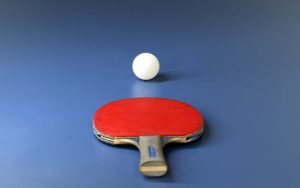 Here are some commonly asked questions about table tennis rackets:
What Is A Table Tennis Racket?
A table tennis racket, also known as a paddle or bat, is the equipment used in the sport of table tennis to strike the ball.
Why Does A Table Tennis Paddle Have Red And Black Sides?
The red and black sides of a table tennis paddle have different characteristics. The red side typically provides more speed, while the black side is better for generating topspin. Additionally, using different-colored sides helps opponents anticipate the type of shot you are playing.
Is Regular Cleaning Required?
Yes, regular cleaning is essential to maintain the performance and longevity of your table tennis racket.
How To Clean A Paddle?
You can clean the rubber surface of your table tennis racket using water or a specialized cleaning solution along with a sponge or cloth.

What Is ITTF?
The ITTF stands for the International Table Tennis Federation, which is the governing body for international table tennis associations.
Does ITFF Have Any Regulations For Paddles?
Yes, the ITTF has regulations regarding the rubber used on professional table tennis rackets. They approve specific rubber types, and when it comes to the blade, at least 85% of it must be made from natural wood.
Is Carbon Blade Good?
Yes, carbon blades are favored by many players due to their lightweight nature and ability to provide added speed.
Conclusion 
To sum up, choosing a perfect table tennis racket could be a never-ending process unless you exactly know what you are looking for. If you are an intermediate player trying to refine your game, I w0ould recommend the Palio Legend 3.0 Table Tennis Racket . This bat gives you a good topspin and backspin. Costing around Rs 1000, GKI Table Tennis Racket  is suitable for beginners. As a beginner, you get reasonable control to play good offensive shots. Given these points, pick one that works out well for you and start playing.
---
We hope you love the products we recommend! Just so you know, Swag Swami may collect a share of sales from the links on this page.
---