For a vegan, there are no half-measures about practicing his/her belief. They are passionate about every aspect of their life adhering to the cruelty-free norms and are not just restricted to their diet. A harmless paint tube or paint brush could be a cause for concern if it contains animal products or parts like hair. However, endorsements for vegan-free brushes and paints from popular painters and celebrities have resulted in a swing towards cruelty-free paints and brushes.
In this brief guide, we explore a few brands that stay true to the vegan ethos and what to look for when you buy a paint brush to be sure they are vegan compliant and cruelty-free.
Paint Brushes – A Short Introduction
Paint brushes come in a variety of shapes and sizes. Brushes are classified as round, angular, filbert, flat and fan and based on their length as short and long handled. Within each category there is variation in bristle size.
We have reviewed acrylic paints and acrylic paint brushes in two detailed articles and you can find the links down below.
For a general article on acrylic paints click here
For a general article on acrylic paint brushes click here
The content below focuses on cruelty-free paint brushes.
Quick Comparison
Image
Brush Types
Round, Flat, Angular, Filbert
Hair
High-grade synthetic nylon bristles
Handle
Extra Long (good control and reduces hand fatigue)
Image
Brush Types
Round, Flat, Angular, Filbert
Hair
High-grade synthetic nylon bristles
Handle
Extra Long (good control and reduces hand fatigue)
You may also like…
What Are Cruelty-Free Paint Brushes?
Regular paint brushes, especially those priced at the higher end use animal hair for bristles. For a long time, animal hair was the only choice for the brushes. Even now, natural hair is thought to be a superior to synthetic alternatives. Thankfully, technology has not only provided us with alternatives that are as good and devoid of animal hair. Moreover, a good painter is not limited to his or her tools alone. Inspiration and imagination does not come automatically with a great paint and brush set!
Here are some paint brushes that use synthetic bristles. You have a wide variety of choices here as you can choose flat type brushes, round type brushes, filbert brushes, bright brushes, fan brushes, riggers or a combination of all. It is economical and useful if you go for a combination set rather than looking at individual types and building a set.
Synthetic Brush Sets
Beginner's Delight
Kabeer Art produces some of the best brushes and this particular set is an ideal one to start your child or yourself on painting. It is handy as a travel paint kit too since its range covers all the essential types of brushes.
---
Aspiring Pro
This blue handled nylon bristle brush set is a great one to have for beginners and aspiring amateurs alike. This set of 12 brushes pretty much covers all you need in terms of variety. This product has generally been well received and well-reviewed.
---
Budget Pro
Bomega is a respected name in paint brushes and this budget pro kit is a great offering from them.This set of 12 long-handled beauties cover the complete range bar the fan brush. This set is ideal for art students and pros alike. Widely appreciated for their quality, they make for ideal gifts too.
---
Premium Pro
This brush set from Home Buy delivers premium experience at not too heavy a price. A set of 12 brushes . These long-handled brushes are made up of soft, anti-shedding nylon bristles is premium value for money and a new rising star among brush sets.
---
You may also like…
Elite Pro
Shuttle Art is a well-known name as suppliers or art material. This set has been well-reviewed across the world and found to be ideal for pros and students alike. This 18-brush set that comes with a carry case that works as a stand, a painting knife and a sponge is a delight to work with.
---
Ultimate Pro
Benicci is a popular brand internationally and this particular brush set has been appreciated for its quality, performance and portability. This 16-brush set covering the entire range offers a great choice for professionals and serious art students. A great gifting idea too!
---
Also check out Swami's take on the Vegan Brands For Cruelty Free Products In India
Identifying Brushes That Use Animal Hair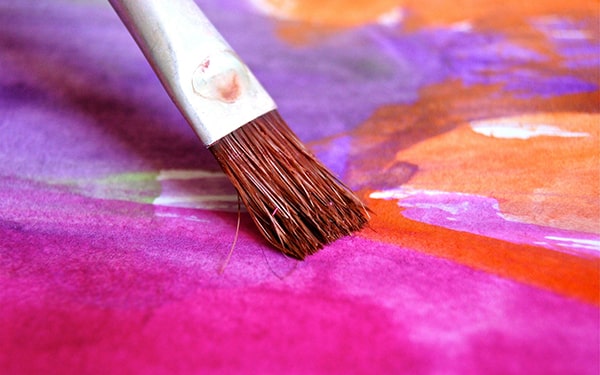 Look for the following key words in the description of the product. These are the most used animal hair types in brushes. You can easily identify and avoid them.
| | |
| --- | --- |
| Sable Hair | This is considered premium natural hair brushes for precision in painting and is made from the hair of sable marten. |
| Hog Hair | This is the work-horse brush for most painters. The bristles are stiff. |
| Squirrel Hair | A cheaper replacement for Sable. |
| Ox Hair | Mainly used in flat brushes. |
| Pony Hair/ Goat Hair | Used in low priced brushes. |
| Camel Hair | Actually not camel hair but from other animals; the bristles are soft. |
Conclusion
We hope this article has been of help in identifying brushes that are in sync with your vegan no-cruelty ethos. We wish you happy cruelty-free painting!
---
---
We hope you love the products we recommend! Just so you know, Swag Swami may collect a share of sales from the links on this page.