One of the most important steps in preparing to paint is to select the right set of brushes. Previously Swag Swami reviewed the Best Acrylic Paints that you can buy in India. Now let us look at the Best Acrylic Paint Brushes to buy online in India.
Natural brushes feature bristles crafted from animal hair, such as hog or sable. They excel at holding paint and maintaining their shape, although they're susceptible to damage when used with fast-drying acrylic paints. These brushes demand meticulous care and come at a higher cost.
Synthetic brushes, made from nylon or polyester bristles, are perfect companions for acrylic paints. They match natural brushes in terms of paint retention and shape preservation. They are easier to clean and maintain and are relatively budget-friendly.
Mixed brushes combine both natural and synthetic bristles for a unique blend of qualities.
Additionally, brushes come with either stiff or soft bristles, and there are at least eight major brush types, along with a few minor variations. For hobbyists and dedicated students alike, investing in a brush set is a practical and economical choice. In this article, we'll focus on the top synthetic brush sets available online in India.
Also check out Swami's take on the Paint Brush Sets That Are Cruelty-Free
The Nicpro Acrylic Paint Brush set reigns as the premier choice for online acrylic paint brush sets in India. This set boasts an array of brush types and an assortment of sizes essential for beginners and seasoned artists alike. The neatly packaged set includes 5 brush types (Round, Flat, Filbert, Angle, and Rigger), totaling 12 brushes of varying sizes. These high-quality brushes feature wooden handles and nylon bristles, ensuring durability and shape retention. The aluminum ferrule secures the brush, preventing shedding. Cleaning is a breeze, as with all synthetic brushes, requiring only warm water.
---
The Bianyo Artist Grade brush set offers an exhaustive collection suitable for beginners and aspiring artists. Remarkably budget-friendly, this set comes in under 1500 INR and includes a practical palette for artists. With 12 brushes encompassing various types (Fan, Flat, Angled, Filbert, Liner, Script Liner, and Large Area brushes), this comprehensive set grants great control with its short wooden handles. The brushes are easy to clean, maintain their shape, and come with a complimentary plastic palette and brush case for convenient storage and use.
---
The Jerry Q acrylic paint brush set is meticulously designed for intricate detailing. This set is perfect for fine painting or calligraphy, as it includes 12 brushes with fine tips that maintain their shape beautifully. The set comprises Round, Flat, and Long Liner type brushes, making it ideal for detailed work on objects like pottery, ceramics, or miniatures. The short wooden handles provide enhanced stroke control.
---
For newcomers to the world of painting, the Bomega Premium Acrylic Paint brush set stands out as the prime choice. This budget-friendly set encompasses a wide range of brushes, perfect for those testing the waters of painting. With a set of 12 brushes in Flat, Angled, Filbert, and Round types, this collection features long-handled brushes that provide a clear view of your work. The synthetic nylon bristles ensure durability and shape retention, and the set comes complete with a versatile carry case that doubles as a brush stand.
---
Tailored to beginners and school children, the Derwent Academy Paint Brush set provides an all-encompassing collection of 12 brushes, catering to different mediums such as acrylic, oil, and watercolor. Priced under 1500 INR, this affordable set includes Flat, Fan, Filbert, and Round brushes of varying sizes. The long acrylic handles are lightweight and easy for school children to handle, and the set comes neatly packaged in a cylindrical box for convenient storage.
---
Paint Brush Buying Tips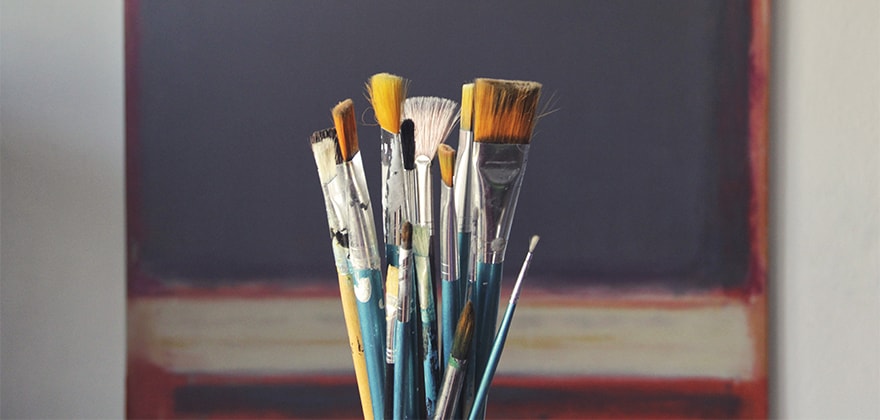 Analyse your user pattern:
Determine whether you're an amateur enthusiast, serious student, or professional artist, as well as how frequently you paint, to match your requirements with the right brush set.
Allot a Budget:
Select a brush set that aligns with your needs and budget, considering the diverse range available.
Brush vs Individual Brushes:
Professionals may opt to gradually build a high-quality collection, while beginners can start with an economical set and upgrade over time.
Synthetic vs Natural:
Choose synthetic brushes for acrylic painting due to their durability and easy maintenance.
Long vs Short Handle:
Opt for long-handled brushes for a broader perspective or short-handled brushes for precise control, depending on your painting area and style.
---
We hope you love the products we recommend! Just so you know, Swag Swami may collect a share of sales from the links on this page.
---