One of the most important steps in preparing to paint is to select the right set of brushes. Previously Swag Swami reviewed the Best Acrylic Paints that you can buy in India. Now let us look at the Best Acrylic Paint Brushes to buy online in India.
Paint brushes come in three broad types, natural synthetic and mixed.
Natural type brushes have animal hair (hog or sable) in bristles. They hold the paint well and retain their shape very well. However, when used with acrylic paints, they do suffer damage if not washed quickly since acrylic paints dry fast. They require good maintenance and are costly.
Synthetic brushes have bristles made of nylon or polyester and are ideal for acrylic paints. They are as good as natural brushes in holding paint and retaining their shape. They are easier to maintain and wash. They are relatively more economical.
Mixed type brushes have a combination of both natural and synthetic bristles.
Further, brushes can either have a stiff bristle or soft bristle. Also, there are at least 8 major types of brushes and a few minor variations of the main types. So, for hobby painting and earnest students, buying brushes in a set is more reasonable and economical and here we will talk about the best synthetic brush sets that are available in India online.
Also check out Swami's take on the Paint Brush Sets That Are Cruelty-Free
The Nicpro Acrylic Paint Brush set is easily the best acrylic paint brush set that is available online in India. It has all the different types of brushes and a tidy mix of the most useful brush sizes that any beginner or professional artist could need. It comes in a neat carry pouch which makes it the best gift for art enthusiasts and students.
This set contains 5 brush types (Round, Flat, Filbert, Angle and Rigger) and 12 brushes of varying sizes.
These are high-quality paint brushes with wooden handles and nylon bristles
Good durability and a quality aluminium ferrule ensures the brush holds together well with no shedding.
Like all synthetic brushes, cleaning and care is easy; can be washed with warm water easily
---
The Bianyo Artist grade brush set is exhaustive, to say the least. If you are a beginner or aspiring artist this is definitely the set that you should be going for. The best part is that it is also easy on the pockets, with a price point under 2000. The set also comes with a nice palette that will definitely be useful to any artist.
A complete set of brushes that has 17 brushes (Fan, Flat, Angled, Filbert, Liner, Script Liner and Large area brushes)
These are short wood handled brushes that offer great control
Easy to clean, good durability and shape holding
It comes with a free plastic palette that is a good add on.
Comes with a free brush case that is ideal for storage and doubles up as a brush holder while working and drier stand after working.
---
The Jerry Q acrylic paint brush set is specifically designed for fine detailing. This set comes with 12 fine tipped brushes that retain shape excellently, thus making it the ideal choice if you are looking to do some fine painting or calligraphy.
A set of 12 brushes that has Round/Flat/Long Liner type brushes.
This is an ideal set if you want to paint intricately on objects such as pottery or ceramics or miniatures
These brushes come with short wooden handles. Short handled brushes offer more control over stroke.
---
The Bomega Premium Acrylic Paint brush set is definitely the #1 choice if you are very new to painting and want to test the waters before you jump in. The set is cheap and comes fully loaded with the widest range of paint brushes that will help you get started quickly. It is priced under 1000 making it a wonderful option if you are looking to gift something nice to an art enthusiast or student.
Set of 12 brushes that has Flat, Angled, Filbert and Round type brushes in varying sizes.
These are long handled brushes and allow a good view of your work.
Synthetic nylon bristles with great durability and shape stability.
Packing is excellent with carry case that can be converted into a brush stand.
---
The Derwent Academy Paint Brush set is one of the best paint brush sets for beginners and school kids. The set packs a complete range of 12 brushes which will help the user paint in different mediums and using different paints such as acrylic, oil, and watercolour. It is priced under 1500, making it an affordable choice.
Set of 12 brushes that has Flat, Fan, Filbert and Round type brushes in varying sizes.
These are long handled brushes.
The handles are made of acrylic material, making them lightweight and easy to handle for school children. It is also break-resistant.
It comes neatly packed in a cylindrical box such that the brushes can stand upright.
---
Paint Brush Buying Tips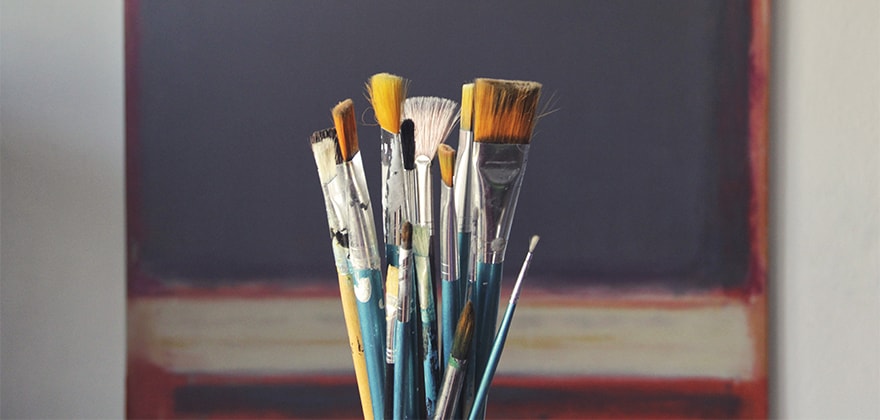 Analyse your user pattern:
Are you an amateur enthusiast, serious student or artist? How often do you paint? Once you answer these questions pick the set that matches your requirement.
Allot a Budget:
There are brushes and then there are brushes! Pick the one that suits your need and pocket. You can always upgrade later.
Brush vs Individual Brushes:
If you are a professional then building a top quality set one by one while you work with a support set looks reasonable. If you are a student or enthusiast, buy an economic brush set and upgrade as you mature as a painter.
Synthetic vs Natural:
No brainer here. For acrylic painting choose synthetic haired brushes all the time. They are simply more durable and easier to care for.
Long vs Short Handle:
Long handled brushes allow you to view your work in greater perspective while short handled brushes offer great control. So if the painting area is large go for long handles, if detailing is the key then use short handled brushes.
---
---
We hope you love the products we recommend! Just so you know, Swag Swami may collect a share of sales from the links on this page.