When I think of hammocks, I think of holidaying, relaxing, de-stressing and unwinding. They have that aura about them. Lying under the sun on a hammock, with a good book and a cold cappuccino is just bliss as is shopping for hammocks! It's so much fun to pick out styles and colours that work best not only for your requirement but your personality as well. There are certainly some factors to be considered before choosing which hammock works best for you. You need to ask yourself why you need the hammock, what material you'd like, how much you're willing to spend, and what extra features you might require that would fall within your budget. These are just a few things to keep in mind while choosing the best hammock, of course.
There is a lot of choice in the market, and it can become quite daunting to zero in on one without some guidance. And this post is going to be just that- a guide for you to buy a good hammock.
A good hammock should be sturdy, comfortable, and easy on your back and your skin. Irrespective of whether you're looking for the best hammocks in India, best hammocks with a stand, or best affordable hammocks, best budget hammocks or the best buy, you'll need to consider a few things before you get one for yourself. Before that, let's take a quick look at what a hammock is.
What Is A Hammock? – A Quick Intro
Hammocks are like swings, only less intense and are made of ropes meshed together and suspended by cords at the ends. They can be tied anywhere with two ends of poles to support them. They can be carried when you go camping, hiking, or pretty much any outdoor activity. Hammocks are not just for outdoorsy people; they can also be used as a comfortable, relaxing point in your garden or backyard or even inside your room, to chill and hang out with some friends, maybe. It's the perfect relaxing spot and gives your space a contemporary twist. Most people find it easiest to lie down on a hammock. It's an excellent place to catch up on some reading, or watch a good episode of Schitt's Creek, or just take a short nap in the afternoon. It is the ultimate hand out spot.
Best Hammocks – Quick Comparison
Product
Dolphy Portable Camping Hammock with Mosquito Net
Best Value
Patiofy Make in India Swing
WXWS Ultra-Light Travel Camping Hammock
CO-Z Kids Hammock Swing Hanging Chair Swing Seat Hammock
Baskety Portable Outdoor Hammock
Futurekart Foldable Hammock
Image
Dimensions
31 x 19.3 x 9.1 Centimeters
2.79 x 0.79 x 0.05 Meters
Colour
Green/Parrot, Grey/ Orange, Army
Product
Dolphy Portable Camping Hammock with Mosquito Net
Image
Colour
Green/Parrot, Grey/ Orange, Army
Best Value
Product
Patiofy Make in India Swing
Image
Product
WXWS Ultra-Light Travel Camping Hammock
Image
Product
CO-Z Kids Hammock Swing Hanging Chair Swing Seat Hammock
Image
Dimensions
31 x 19.3 x 9.1 Centimeters
Product
Baskety Portable Outdoor Hammock
Image
Product
Futurekart Foldable Hammock
Image
Dimensions
2.79 x 0.79 x 0.05 Meters
You may also like…
Also check out Swami's take on the Best Bean Bags In India
Types of Hammocks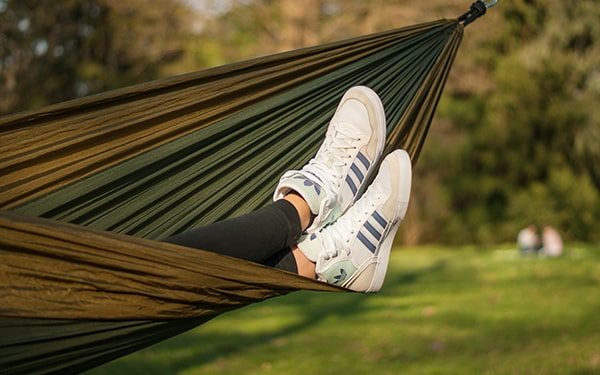 These days you can find oh-so-many different types of hammocks that you can buy. They have something for everybody! Do you want to go camping? There's something for you. Do you just want to chill at home? There is something for you as well. All you have to do is compare and contrast. It's easy enough, you'll see. The different types of hammocks available in the market are listed below.
Fabric Hammock
Fabric hammocks can be used for outdoor activities and beach travel. These hammocks are your go-to if you just want a good relaxing session. These are made of fabric like cotton, which is exceptionally soft with material that is tightly woven to reduce damage. They have sturdy end loops that are huge tightly woven strings of thread in the shape of a loop that can be hooked onto something. They are pretty strong and would capacitate weights up to 150kg approximately. You can easily fold them up into a roll, and it comes with an outer cover too, which is mostly made of cotton material. The folded dimensions would be about 24*9*11 cm.
It's effortless to set up too and does not take up too much of your space. It's a go-to hammock for a picnic or a holiday. They are about 100 inches long and can vary depending on the company. These hammocks have a uniform thickness, and they are quite durable too. They have beautiful coloured fabric come in so many combinations. Some hammocks come with an anti-tip design, which gives balance and security while you lay relaxing, afraid that you might topple off. The fabric is crease-resistant, and you needn't worry about crinkles and doesn't fade out that easily either.
Rope Hammock
This is one of the classics. This is what one would typically think of when you say "hammock". The ropes are usually made of cotton or polyester fabric. The colours are generally natural and are either white or off-white. This type of hammock is suitable for when you decide to go camping or trekking or even just your backyard spots. The construction is sturdy and thick so you would feel comfortable and it does not hurt your back. This rope hammock would also take a maximum load of 100kg. You can mount it with ease, and the installation is very user friendly. You can set it up between two poles, or two trees, or you can even use a stand to mount the hammock. The only downside is that you would not have a lot of choice on the colours.
They are usually in their natural form and are white, or they come in shades of white. It might soil easily, so you must take into consideration this factor if you think you might use the hammock in places where it's easy to get it stained. Rope hammocks are good value for money, and they also have UV resistant options, in the sense that it wouldn't lose its colour and fade under the wrath of the sun. They usually don't include hammock stands with their product; you would have to buy them separately.
Outdoor Hammock
These hammocks are generally gorgeous and brightly coloured. It's vibrance instantly lifts your mood for the better. You can go for this option if you want to chill at a beach, say you're going on a holiday to Goa or Pondicherry, or as with the others, for camping, or hiking. They can be made with ropes, or with fabric like polyester or cotton. Hammocks usually take up to one person with ease. If you want to use them for two people, then you have to go for the wide option. Certain brands have two-person hammocks which ideally allows for two people to fit in comfortably, and it's an ideal choice for couples.
You can easily set them up; it's a no-brainer. Parachute hammocks are a category of outdoor hammocks which is generally an excellent alternative to a tent or a sleeping mat. They are affordable when compared to an actual tent which can be heavy on your pocket if you're just going to go on a short camping trip or a holiday, and it's a one-time thing.
Indoor Hammock
Indoor hammocks are for those of you who love to enjoy a swing at home in the hall, patio, or bedroom. It is usually made with cotton or nylon and comes in nice, aesthetic colours. Enjoy a nice, quiet time at home with this gentle rocking chair. There are so many ways to use an indoor hammock. You can put it in your balcony to watch the rain pitter-patter, or put it in your room to have a quiet space to chill and read a book, and on a cold night, in front of your fireplace to enjoy the warmth. They might come with detachable cushions, to enhance the decor.
They usually carry about 150kgs and can be strung up in a ceiling. It is suitable for any part of the house, and comfort will not be a problem at all. They are ideal for kids too, as they are safe and secure. Sometimes, they do not provide all the necessary accessories that the hammock needs, like a stand, or extension rods or hooks. This might be a pain if you are looking for a whole-package experience. Other than that, indoor swings are just great.
Camping Hammock
All the campers out there, confused between investing in a tent? Camping hammocks are your best bet here, and they are cool too. They come with all the basic camping necessities and make your camping or hiking experience hassle-free. They have mosquito nets to keep you safe from insects and bugs. That's a huge tick on your checklist. They are made of nylon, and they come in cool camping colours like black, orange or any of the basic shades. It's super portable and would fit into your rucksack. The best part is that two people can comfortably fit in. They have a breathable fabric that can be mildew resistant. It lasts a lifetime, and it's worth your money!
They hold up to 300kgs, which is so much more than the previous hammocks that we have just discussed. It's a great buy. It's easy to set up, no matter if you're a professional trekker or a newbie. These hammocks can be used even at home. Because, why not? When you're not out camping, you can very well use camping hammocks to replace the chairs in your balcony.
Travel Hammock
Going on a holiday and don't know what to shop for? Travel hammocks! These are so affordable and super comfortable. It would be worth your money and you also get to have a good time. They are similar to rope hammocks and outdoor hammocks. It only depends on what material you want and how pretty you like it. They are easily foldable and doesn't take too much of your space in your suitcase. As they say, its' "under the volume, easy to carry". They have most of the characteristics of an outdoor hammock. It's perfect for your whole family and is easy on your pocket.
Swinging Hammock
As the name suggests, this hammock rocks. Most swinging
hammocks are used domestically for the home or the garden. They come in pretty designs, and it is fun to have a swing at home, to spice things up. It serves the purpose of entertaining your kids too. It's very comfy, and the woven ones are all handmade, so you get the best quality. You can even vary the height- longer for kids and shorter for adults. They can be cushioned with back support, which is a hit with older people with back issues.
Hammock With Stand
For extra support, hammocks with stands are what you need. The stand gives that additional bolster to keep you from falling. It is made of metal and is strong and long-lasting. You can choose from rope hammocks, fabric hammocks and even indoor hammocks. The stand comes in handy when there is no support available at home or maybe in the middle of the mountains. It is stylish and stable, and some of the places you can use this are your home, garden, terrace, patio, backyard. It supports up to 120kgs, and it assembles in minutes. You don't require any special tools to put it up. The only downside is that you might need more storage space to place the stand. But sometimes, that's the best thing to do, to get a support stand with the hammock.
Hammocks For Poolside
What's impressive is that there is something known as an inflatable water hammock! I know, right. It is used primarily in swimming pools. Made of PVC and fabric, it has a unique design and is durable too. It comes with a backrest and leg-rest and is ergonomically designed to provide the most comfortable experience for a good pool session. So you float in the water partially submerged and read a book or listen to your favourite music. The pillows quickly inflate and deflate, and that makes it easy to carry and store. It can also be taken to the beach and used in the ocean waters. Do you have friends who have a pool at home? This could be a wonderful and thoughtful gift. However, it's always recommended to supervise your children while playing.
Also check out Swami's take on the Ultimate Guide To Buying The Best Mattress For Your Home In India
Top Hammock Brands in India
Baskety
Baskety is a professional supplier for outdoorsy products, and they supply a variety of tools that are of excellent quality. They provide a comfortable and breathable fabric which is easy to clean too- just some good old soap and water does the trick. The hammocks are so easy to assemble because of the double ropes which provide length and support. These are incredibly light and have high-density breathable fabric. This brand originated in China and is one of the leading manufacturers of hammocks. Baskety is committed to selling high-quality products and has a team of dedicated engineers who test the product for up to six months. Gorgeous colour palettes are a plus if you go for Baskety. It is vibrant, relaxing at the same time.
The hammocks are made of bamboo-derived rayon and have gotten some excellent reviews too. A compact carrying bag helps you to store the hammock and carry it around anywhere. This bag is a colourful drawstring bag, which also adds to its vibrance. There is a wooden bar that comes with this hammock. This serves as a handle to help you get in and out of the hammock easily. The primary purpose of the bar though is to improve the swing efficiency. Your packages would have a hammock, ropes, a drawstring bag, and spreader bars. The spreader bars, as the name suggests, are used to spread the end ropes evenly to get the uniformity and also prevents the cords from getting knotted up and tangled. Now you wouldn't want that, would you?
Inditradition
Inditradition is an online store that specializes in home decor, home organization, kitchen, health, personal care, travel, fitness and gadgets too. They manufacture lightweight hammocks or hanging beds that are ideal for sleeping outdoors. These hammocks hold up to 120kgs, and the sleeping area would approximately be 197cm x 80cm. They have grips on both sides to reduce the risk of falling or toppling over. This is an important feature to have. Their suspension rings are of good quality and would last for years. You can hand or machine wash them easily and fold them neatly and store it in a free carry bag that comes with your purchase! It is perfect for both indoor and outdoor settings. There is minimal pressure on your body when you lay on this hammock.
A hammock from Inditradition could be a thoughtful present for anyone. There are good ratings from verified users, and most buyers are happy with their purchase. They are pretty inexpensive and can be afforded easily. It comes in a single size and is made of cotton fabric.
Hangit
Hangit is one of the best brands there is. They go for a natural look for most of their products and are made of cotton or polyester with natural colours like white and off-white. The length would vary from about three to four meters. It can be mounted between trees or two poles or a stand even. These hammocks look aesthetic and would be the p[erfect gift for your loved ones. Hangit products don't come with a wooden bar; they have designed their products in a way that wraps the body closely. One thing that this brand is loved for is that they use eco-friendly material such as eco-friendly cotton.
Hangit comes with a six-month warranty for manufacturing defects only. It weighs about 2-3 kg, and they have a basic and minimalist approach to their designs. The weight-bearing capacity is about 100kg. Mounting the product shouldn't be a problem as it's user friendly, and Their products are delivered to you in a pre-assembled state. It is apt for camping too. Certain hammocks like the Single Person 48-inch white rope hammock is made of UV resistant white rope with spreader bars. These are much more durable when compared to cotton. Relaxation and comfort are guaranteed if you buy the Hangit hammocks.
WXWS
This company which originated from India makes hammocks suitable for hiking, trekking and the likes. It has an outdoor gear look to it and would pair well with your rucksack or backpack. They have strong carabiners that have smooth edges. Compared to other hammocks, this is much larger and is so soft and cosy too. They have thicker and stronger ropes and have the perfect length- not too long, not too short. It comes with a packet bag into which the hammock can be folded and kept. The bag is designed to be lightweight so that you can carry it with ease when you go backpacking or camping.
WXWS uses super strong parachute nylon material which is extremely lightweight, soft, breathable so allows air circulation and is resistant to mildew. It lasts for a lifetime, so this would be a pretty decent investment. It's one of the best brands in hammocks that you can bet on. You would get a maximum weight-bearing capacity of over 300kg. The ropes, carabiners, and storing packet come along with your order, so it is straightforward to set up. Washing is a cakewalk as it doesn't need too long to dry, it's a quick-dry material again, ideal for camping. The pouch is multi-purposeful. It can hold your wallet, mobile, sunglasses, water bottle etc. You could say that this is your perfect alternative to a tent, sleeping pad, cradle or yoga mat.
Patiofy
Patiofy makes the best jhulas for your home, which are safe for both you and the kids. They believe in comfort and style equally. It instantly makes any space you hang this swing in a retro look and feel. Teens would love this as it speaks to their fashion sense, in furniture. It's a perfect hang-out spot for when their friends come to visit. Patiofy is the best brand for home swings to put in your living room, bedroom, garden, swimming pool and backyard. It hangs anywhere and can easily be relocated as well.
Made with 100% cotton, in a macrame net pattern with fringe tassels on a mahogany base, these are a go-to if you want to decorate your house a little more. Absolutely perfect for lounging, nestling and relaxing into a cosy little cocoon of your own, as you read a book, listen to the rain, or enjoy the chirping of the birds, or just star gaze in the quiet night. All of their products are off-white as it is the natural colour of the ropes; it wouldn't be a bright white colour. Hanging this swing anywhere in your house will lift the sense of style almost immediately.
Dolphy
Another favourite is Dolphy, of course. Made of nylon, these pop-up parachute hammocks are ideal for spacious, relaxing vacations. The hammock keeps you from anything threatening you from the outside environment. It is fitted with a mosquito net that protects you from pests and bugs. The net has loops around its hoop to add more ropes to move the net away from you as you are inside the hammock. You have the option of setting it up in two ways- set it up with the hammock at the bottom and the mosquito net on top, or rotate the hammock 180 degrees and place the net in the bottom, and use it as a regular hammock too. It holds up to 300kgs of weight, and it's durability is top-notch, and takes only a few minutes of your time to install it.
Are you planning a solo trip to go backpacking or camping? This is your hammock. They have two colour combinations- Black, Orange and Mehendi. A unique feature is the shade cloth on both ends of the hammock to prevent direct sunlight from getting to your eyes. Keep your privacy as you take a nice nap in there.
Two Tree
This brand offers a stand combo with the hammock and can be used by children, adults and older people as well. They provide a tubular metal stand frame powder-coated finish. It is so easy to assemble, and you wouldn't need any tool to set it up. They have a detailed instruction manual in the box that is easy to understand. Their hammocks are made of polyester and can hold a weight-bearing capacity of 125 Kgs. The powder-coated steel stand provides increased durability against the harsh environment and climate. You can use the chain links which come attached to the hammock to adjust the size according to your convenience.
The hammock and stand come packed together pre-assembled, and you can transport or store it in the same knocked down positions. It is perfect for adults for kids and is an excellent choice as outdoor furniture for your backyard. These cotton rope hammocks with a stand are best for garden use.
Also check out Swami's take on the Best Mosquito Killer In India
Top Hammocks in India – Review
These are some of the most amazing hammocks that you'll find in India. They aren't too expensive and are some of the classics in the market.
Equipped with a carabiner, strings, and a tree strap, this hammock is THE hammock to take camping. Made with high strength nylon, the best material for the price, there would be absolutely no problems whatsoever. It comes with a mosquito net which can be rotated to the bottom depending on your comfort and requirement. This is ideal for your kids as well as it is a double hammock so two people can comfortably fit in. Unlike tents, which are tedious to carry, the Dolphy hammock fits in beautifully into a cover bag which they provide for you.
---
This swing is so stylish; it will instantly light up your room. It is made of 100% cotton in a macrame net pattern with fringe tassels. It comes in just one natural white colour. Revamp your home with this perfect addition to your collections. A lovely hanging chair which is worth its money and is the best eco-friendly fabric hammock available in the market.
---
This is a double camping hammock with a highly durable nylon material with triple-needle stitching. The material is rot and mildew resistant. This is the most multifunctional hammock available in the market, ideal for indoors, semi indoors and outdoors. You can even take them along when trekking or hiking or during long drives and picnics. Basically, anywhere. The order comes with a bag, ropes and hooks. The bag can be used to carry your personal belongings like your mobile, keys, shades etc.
---
Lightweight and durable, this cotton hammock ensures excellent support for your kids. It has enough space for one kid to lie down and play with his or her toy. This fantastic hammock has an inflatable and removable cushion. It looks so bright and vibrant and would attract children very much. CO-Z hammock can be easily dismounted and carried anywhere with no hassle at all.
---
Baskety is a Brazilian style hammock with beautiful colours! It is compact and easily installable and comes with a bag to store and carry. You can hang a Baskety hammock both indoors and outdoors, and they'd look great. It is extra-wide and sturdy and has an amazing grip. It is the best cheap hammock for multi-use and the best hammock for your money.
---
It is a lightweight canvas hammock which can be used for outdoor sleeping, with advanced gripping on both sides to prevent you from falling or tumbling off the hammock when you sleep. It is perfect for your bedroom, camping, and outdoor activities. There is zero pressure on your body too. It is one of the best hammocks you can buy at this price range.
---
You may also like…
Also check out Swami's take on the Best Coffee Makers In India
How To Choose Hammocks in India – Buying Guide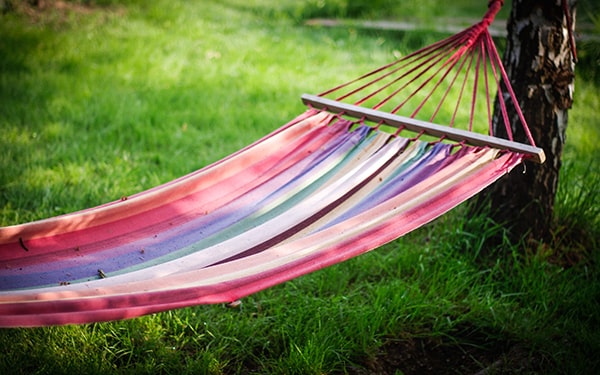 There are quite a few factors that you must consider before buying a hammock. You have to see the size, the weight, material used, and of course, your budget. So in this section, we are going to discuss all of these things in detail.
Purpose
The first thing to consider while looking for a hammock is the "why" of your purchase. Why do you exactly need the hammock? It might be to add extra decor at home, or you might need it to go camping or hiking or trekking, or it might just be for a holiday to chill and relax. Once you figure this out, everything else becomes more manageable.
Material
Next, look for what material is most suited for your taste. There are hammocks made of cotton, nylon, polyester and different types of fabric. Some people might not like how nylon feels, and so cotton is the way to go. Some of us are also environmentally conscious, and eco-friendly cotton would be perfect. Based on the material, the prices also vary slightly, not much but just a bit.
Type of Hammock
And then you have to figure out what type of hammock you like. We have discussed all the different types you might find in a store, so this would be the perfect guide. There are indoor hammocks, outdoor hammocks, travel hammocks, camping hammocks, indoor swings, fabric hammock, rope hammock, and so on.
Weight Bearing Capacity
This is one crucial factor to consider too. Depending on who is going to be using your hammock, you need to do some research. Certain hammocks are not suitable for two people, and excess weight can put a lot of strain on the ropes and would eventually wear out. Most hammocks have an average weight-bearing capacity of 200kgs at the least. There are some which extend up to 300kgs too.
Portability
Most hammocks are portable. This shouldn't be an issue unless you are going for a chair type hammock or something with a stand or a cushion. Even then, they are detachable, and portability is a huge plus with hammocks. They all come with a cover bag, which is used to roll your hammock into neatly.
Price
Finally, the most important criterion, which is the cost. Hammocks are usually budget-friendly, and they all fall under 20000 on average. You have a lot of options under 10000 as well. Finally, the choice is yours. A pricier hammock would give you more durability and comfort.
 Also check out Swami's take on the Best Ice Cream Makers In India
Hammock – Frequently Asked Questions
Now, we are going to take a quick look at some frequently asked questions.
Are Hammock Chairs Comfortable?
Hammock chairs add extra cushioning when you sit on a hammock. They are very comfortable.
Are Hammocks Comfortable?
Hammocks are like swings and are usually tied between two trees or poles and are used as a relaxing spot. They are made of soft material which is easy on the skin and are very comfortable.
How To Set Up Hammocks?
Hammocks can be set up in various ways. Some hammocks come with stands. Other traditional ones come with some hooks and strings to tie between two poles, anywhere in your house or outside. Installation is pretty simple.
What Hammock Should I Buy?
Depending on what kind of use you need a hammock for, there are different kinds of hammocks in the market. The most popular ones are the rope hammocks and camping hammocks.
Which Hammock Is Best For Camping?
The best camping hammock is Dolphy Portable Camping Hammock, as it comes with a mosquito net which is an essential factor to consider, living in India.
When Was The Hammock Invented?
The hammock was invented in 1492 by Columbus in the Bahamas where he saw people sleeping on nets between trees.
Which Is The Best Hammock In India?
The best hammock to buy would be Dolphy, Patiofy and Baskety. The best hammock in India for kids is the Co-Z Kids Hammock.
Also check out Swami's take on the Best Bread Maker Machines In India
Conclusion
Hammocks are a good investment. They are cheap, portable, durable, pretty, and very comfortable. You can find hammocks in beaches, camps, homes, gardens, mountains and even resorts. The best value for your money would be to go for Dolphy or Patiofy, depending on your end-use. Patiofy is elegant and tasteful, while Dolphy is like camping gear. They both are affordable and easy on your pockets. They come with a warranty and are extremely durable. These are the two best hammocks you can choose from.
---
We hope you love the products we recommend! Just so you know, Swag Swami may collect a share of sales from the links on this page.
---