Hiking as a hobby has been gaining popularity in India since the past few decades. Our country has extensive, myriad, diverse and stunningly beautiful trails and routes across its length and breadth, that it offers to hiking enthusiasts. Given the steady surge of hiking and trekking in India, many companies like Indiahikes, Thrillophilia and Snow Leopard Adventures among many others, provide a wide gamut of services and hiking & trekking experiences to the wanderlust.
An imperative requirement for every hiking activity is the need for the right gear; whether you are a novice or a professional, every hiker needs the most appropriate equipment to suit his/her trekking needs. The proper gear will provide safety, comfort and protection from weather conditions to the trekkers. Among the different items in the gear, hiking shoes play an integral role in a successful and comfortable hike; a pair of shoes could either make or break your trek.
A good pair of shoes will protect your feet from bruises and abrasions due to the rough terrain, provide the much-needed grip on steep, slippery, wet, muddy surfaces and also cushion and support your feet when walking long distances. That is why it is essential to have a good, sturdy pair of hiking shoes.
Also check out Swami's take on the Best Dash Cams In India
Quick Comparison
Product
Redmond V2 WP Women's Hiking Shoes
Best Value
Adidas Argo Trek Hiking Shoes"
Image
Image
Product
Redmond V2 WP Women's Hiking Shoes
Image
Best Value
Product
Adidas Argo Trek Hiking Shoes"
Image
Image
Image
Best Hiking Shoe Brands In India
Walking has been activity carried out by humans ever since civilization dawned on the earth. And over a period of time footwear began to play a crucial role in a person's life. We've come a very long way since the initial rudimentary shoes worn by people. Today the manufacture of footwear has become a specialised industry across the world.
Hiking as a sport and hiking shoes have gained their popularity with time. Design and production of hiking shoes has taken an advanced form and we see several players in this field in India as well as abroad. Companies are innovating new styles and using state of the art technologies to create a wide range of cutting-edge hiking shoes. International brands such as Merrel, Adidas, Columbia, Salomon and domestic brands such as Red Chief, Unistar among others are key names in the industry.
Let us gather some information about the companies that manufacture hiking boots:
Unistar
Unistar Footwears is a well reputed manufacturer and exporter of a wide range of canvas and acupressure footwear for men, women and children. They are recognized for their use of high-quality raw materials and advanced technology in the production of shoes. These factors make their shoes durable, comfortable and wear and tear resistant.
Located in Haryana, Unistar manufactures an expansive array of shoes – from jogging & walking shoes to jungle boots, they have it all.
Goldstar
With its presence in Nepal and India, Goldstar is a mid-priced brand that aims to reach out to a larger client base. Having established in Nepal, today, the company has its presence across the length and breadth of India too.
Goldstar is known for using genuine raw materials and cutting-edge technology in its manufacturing processes. They envision themselves as the benchmark in the footwear industry serving customers with quality.
Red Chief
Red Chief is the brand name for the footwear range manufactured by Leayan Global Private Ltd. The business produces notably well-known and high quality leather footwear. The company is a proud owner of a tannery and five manufacturing factories.
Apart from shoes, Leayan Global also manufactures apparels and accessories for men.
Also check out Swami's take on the Best Baby Carriers In India 
Adidas
Adidas – the name associated with sports since 1949 does not need an introduction. An organization that started in Germany today has its presence in every corner of the world. Their belief, that through sport they can change lives can be easily witnessed in the way they operate within and outside the organization.
With a production of over a billion units annually, Adidas is clearly one of the largest sports merchandise manufacturing company that aims at being the best in the world. This means they design, build and sell the finest, high-quality sports products in the world.
Columbia
Columbia Sportswear, based in the USA, manufactures a wide range of ultramodern active sportwear merchandise. They produce sports apparels, footwear, accessories and equipment. The company has four brands of which Coumbia is a part. Their products have gained global recognition and standing.
Their motto is to connect active people with their passions and doing the right thing for their consumers and customers. That is why they produce high quality goods using state of the art technology, processes and systems.
Quechua
In the field of outdoor sports, Quechua is a name to reckon with. Established in 1998, Quechua specializes in outdoor sports products; the team designs and manufactures mountain hiking, climbing, mountaineering, ski and snowboard merchandise.
The company was ranked among the top five creative brands in France. With an aim to make mountain hiking accessible to a larger number of people, Quechua produces a wide range of shoes, jackets, backpacks and tents. Their products pass through various testing procedures both in the laboratory and on the field which definitely makes their products reliable.
Also check out Swami's take on the Best Men's Gym Shoes in India
You may also like
Review – Best Hiking Shoes
The Unistar PU Anti-skid High Ankle Extra Cushion Inner Sole Jungle Boots are especially intended for extreme rough and tough usage. They were originally designed for the Army personnel and hence can endure intensely harsh conditions. That is why these are the perfect shoes for trekking and hiking.
These shoes are manufactured using the polyurethane (PU) injection technique, wherein the soles are molded directly into the top section of the shoes so that there is no chance of separation of the two. This technique makes the shoes more durable and increases its longevity. The materials used for the inner lining and soles of the shoes make the shoes odorless.
The anti-skid soles provide a good, firm grip on all kinds of terrain. The lace-up closure offers a snug and comfortable feeling. Apart from the great functional use, the Unistar PU Anti-skid hiking boots also contribute towards a smart and stylish look; team it up with a pair of rugged jeans or hiking shorts and you are good to go!
---
This olive pair of Goldstar hiking shoes says it all! With a traditional lace-up closure and mid cut ankle, this pair of shoes provides a comfortable fit and that extra ankle support for your long, strenuous treks.
The outer material of the shoe is made of synthetic leather while the sole is that of rubber with PVC compound for added traction. The toe and heel sections of the shoe also have the Vibram sole which further protect these areas.
Easy to maintain, this is a pair you must have in your closet.
---
Also check out Swami's take on the Best Electric Blankets In India
The FURO Hiking Shoes has a very sporty look! Its air mesh outer fabric makes the shoes breathable while its Dry Tex lining absorbs sweat that will make you feel comfortable even in a hot, humid terrain.
The toe and heel sections of the shoes are hardened and the anti-skid soles with shock-absorbers are provided to ensure better grip while trekking or hiking thereby preventing the user from stumbling or falling. To give the user a cushioned or bolstered experience, moulded socks and soft density collar foam are used. Available in black and blue.
So if this shoe fits in your budget, then it is indeed a good investment!
---
Also check out Swami's take on the Best Baby Car Seats In India
The brand says it all! One needn't think twice before investing in an Adidas footwear. The name synonymous with sportswear also makes outstanding hiking shoes.
The Argo Trek is a pair of lightweight shoes, a feature especially required when traversing rugged terrain. The USP of this pair is the rubber outsole which gives you a firm and steady grip even on wet, slippery surfaces. The lace closure and the molded sockliner provides a regular fit.
The mesh and synthetic outer fabric make the shoes breathable even in hot and humid conditions. Overall these shoes provide great comfort and fit and excellent traction even on steep slopes.
---
Light weight, mid-cut and breathable – this pair of shoes is one of the favorites of the dedicated fans of Columbia shoes. The Redmond V2 WP Hiking Boots are a definite value-for-money purchase.
The advanced technology used in the manufacture of these shoes makes them light-weight and durable. The outer material of the footwear includes a combination of suede and textile with metal hardware and laces to render an adjustable fit.
The midsole acts as a shield against impact thus giving the wearer a very snug, padded and comfortable experience. The outsole is made of Omni-grip, a cutting edge traction solution that ensures stability and a firm grip to the user in all kinds of terrains.
You don't have to rethink your decision when it comes to this brand of shoes. Go ahead and buy this pair of shoes for your next trek.
---
Also check out Swami's take on the Best Hammocks You Can Buy In India
While these shoes are apt for all trekkers, they are especially good for beginners. Made of waterproof material, this shoe is suitable for all weathers and terrains. Its rubber sole provides excellent traction particularly on muddy or slippery surfaces.
This footwear has a stone guard to protect the toe area and the mid-height upper gives support to the ankles.
This shoe also comes with a two-year warranty. So what are you waiting for? If this is your budget, then you must go for it!
---
You may also like…
Also check out Swami's take on the Best Running Shoes in India
Hiking Shoes – Buying Guide For Men And Women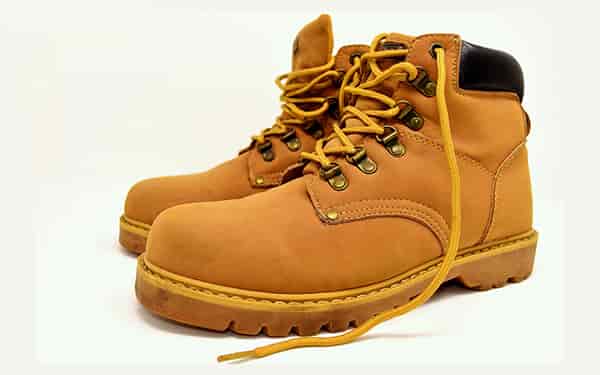 One should not take buying a pair of hiking shoes lightly. Remember that you will be participating in a demanding adventure sport, and will be on your feet during the entire trip. Hence you need to wear a pair of shoes that will be durable and keep you comfortable for the full journey. But you must keep in mind that you should break the shoes way in advance before you hit the mountains. You definitely do not want to suffer from shoe bites while on your trek!
Before you go and buy yourself a pair of hiking shoes, it is important to consider what kind of a hiker you are – do you undertake just one day or short hiking trips or do you go back-packing for days or even mountaineering? Once you identify this aspect, you will be able to select the kind of shoes or boots you require.
Short or day hiking shoes
If you are out on a short, maybe even a one-day hiking trip carrying less load, light-weight hiking shoes are preferred. These can be low-cut or even mid-cut if you want that ankle support. They flex easily and do not need much time to adjust and adapt to the feet.
Back-packing boots
They are designed to take that extra load that will come with back-packing. Here a lightweight pair will not do the trick. These will normally be high-cut shoes for that much needed ankle support with stiffer soles for durability and sturdiness across all terrains.
Let us now have a look at some of the other things you need to bear in mind when buying a pair of hiking shoes.
The terrain
An important factor to bear in mind when investing in a pair of hiking shoes, is the kind of terrain you will be mostly hiking on. If the hike is simpler on soft, flat or muddy trails then probably a regular waterproof shoe with mud-shedding lugs on the outer sole would be appropriate.
However if the trek is more demanding and tough comprising of rocks, mountainous passes and so on, then you would need shoes that give you good ankle support and those that have excellent traction in their soles to help you get secure terra firma. On the other hand, if you are hiking across hot and humid landscapes you would surely need shoes that have good breathability.
Also check out Swami's take on the Best Mattress For Your Home In India
Waterproof resistant shoes
If you are a novice, you would think that it is good to have waterproof shoes to go hiking but you may be mistaken there. The outer material of waterproof shoes are made of membranes that aim to prevent water from going into the shoes. This reduces the breathability of the shoes which means that on hot days or the hot season, the shoes will promote perspiration and trap the moisture from the sweat inside the shoes. This may even result in you getting blisters on your feet.
So if you plan to trek or hike in the monsoons or will come across several water bodies, then waterproof shoes are recommended.
Getting the right fit
We all have a different shape and size to our feet; hence there is no standard "I want a size 6 or 7" that will fit the bill. Every brand of shoe is different and hence it is imperative that one tries on the shoes before buying them.
When trying on the shoes at the store, walk around a bit to gauge the comfort of the shoe. Your feet should not feel squeezed in or constrained; remember you will have a long day in those shoes! An appropriate pair of shoes would be one that gives good support to the arch of the feet. Check for comfort around the forefoot and toe area; are they touching the end of the shoes or is there too much of gap between the toes and the end of the shoe? Are you able to wriggle your toes or are they feeling crushed? Your foot should be comfortably secure within the shoes so that your heels do not lift inside the shoe.
And very importantly do not forget to try on the shoes with the socks that you will be preferably wearing on the trek. The right socks also plays an important role in the overall comfort. Keep in mind the weather when deciding a pair of socks – say, woolen socks for a cold climate. While cotton socks retain moisture, synthetic and woolen socks wick moisture. So pay attention even to the socks that you will be wearing for the hike.
Also check out Swami's take on the Best Baby Walkers in India  
The sole of the shoe
There are mainly two categories of soles in a footwear – the midsole and the outer sole.
The midsole is the main structure of the shoe that acts as a buffer between the hard ground and your feet. It plays a very important role in the comfort of the wearer as it provides the much required cushioning, support and flexibility. It is made of a variety of materials but the most common ones are EVA (ethyl vinyl acetate) and PU (polyurethane). Most of the light weight and mid-weight hiking shoes use EVA as they are softer, extremely light weight and easily take off some of the sting that impacts the heels of the feet. However, if one has to traverse rugged terrains, then the PU midsole is a better choice. This is less cushy as compared to the EVA but is more durable and can handle a heavier load. They will also retain their shape longer and will not compress like the EVA midsoles.
The outsole is that part of the shoe that touches the ground. It is usually made of rubber but often carbon is added to it to make the sole stiffer and last longer. The lug shape and sizes too vary depending on the kind of topography the hiker will be going to. For instance, shoes with large lugs would be preferred on muddy terrain.
Lacing it
We have often seen runners or people strolling, stooping down to tie their shoe laces. This can become quite a pain if the laces untie or loosen often. This often-ignored aspect of shoes is equally important. The lacing system allows a person to modify the fit to suit the user. While on a hike, it would be very annoying and distracting if the laces were prone to loosening. If it is the material of the laces that are the problem feature, then there are several quality laces available in the market. These laces may be rounded or flat with some level of elasticity.
The eyelets of the shoes too should be such that they keep the laces in place. The number and arrangement of the eyelets will help you to adjust the shoes to your desire. Eyelets that run right up to the collar of the shoe will provide more stability to the wearer.
Also check out Swami's take on the Best Backpacks in India
Hiking Shoes for Women & Girls – something to ponder!
A significant aspect to keep in mind when buying hiking shoes for women is the anatomy of the feet – it should not be a 'one-size and fit for all' approach. Women's feet are not just smaller versions of the male feet. According to various studies, in fact they differ in various aspects such as the shape and length of the arch, lateral sides of the feet, toe bone structures and the ball of the feet. These aspects are definitely factored in when manufacturing sports shoes for women.
Hence keeping in mind all the tips included in the 'Buying Guide' section of this article, consider buying a pair of shoes that fit you the best. They should keep you comfortable through the length of your trip, be light and breathable, and have good traction for a firm and sturdy grip on terra-firma.
Hiking Shoes for Kids
Planning on taking your kid for a trail run? Great idea. Children will love this adventurous outdoor sports activity. It is a good way to channelize their energy and enthusiasm too. So, is there something specific that you need to keep in mind when buying hiking shoes for children?
Most likely you will not take your child on a very arduous journey but whatever be the terrain, your child will definitely need a good pair of shoes – one that will maintain a good balance between comfort and stability.
Children's feet tend to be delicate and need protection. But if the shoes are too hard and stable, they can take a long time to break in thus causing shoe-bites but on the other hand if they are too soft they may not give the required support which in turn may sprain their ankles. Hence maintaining a balance is the key word.
Another important factor to bear in mind is that children are growing and so are their feet! So when buying shoes, leave a little room for scope of growth; but again the shoes should not be so big that they will be loose and uncomfortable and unsteady.
Also check out Swami's take on the Best Sleeping Bags in India
Conclusion
We hope you got the information that you need to pick the right hiking shoes for your needs. If you think we've missed something, do let us know in the comments below.
---
---
We hope you love the products we recommend! Just so you know, Swag Swami may collect a share of sales from the links on this page.