I love the feeling when my whole body perspires with sweat after a good run. In my opinion, a good pair of shoes is essential for a good run. We wouldn't want a twisted or sprained ankle, would we? These thoughts kindled my search for the best marathon running shoes for men in India.
No matter how you search the Internet – the best walking shoes, the best jogging shoes, the best sports shoes or best PT shoes, you will have plenty of options to consider. The key is to pick the one that suits best for you. Now that I have some insight about buying a pair of best running shoes for men, I have come up with an extensive guide to help you find your pair of sneakers.
Best Running Shoes – Quick Comparison
Also check out Swami's take on the Best Treadmills For Home Use In India
You may also like …
Type of Running Shoes
Picking the right pair of shoes can be tricky. You have to consider the environment or the surface where you run, your weight, speed, body type, foot type and above all, your gait. Now, let's discuss all these types further.
Based on Running Surface
Manufactures design running shoes keeping in mind what kind of surface you plan to run on. There is a difference in the look, feel and design of the shoes because road running shoes are not best fit for trails and vice versa. Now, let's understand the purpose of these different kinds.
Road Running Shoes
These are the most common types of shoe ideal for human-made surfaces like the pavement, footpath or concrete roads. These are designed to hold the impact of the hard surfaces and have less wear and tear compared to the rugged trails.
Trail Running Shoes
If you frequent rough, off-road, muddy or inclined trails, this kind is your best pick. Trail shoes are designed for better grip, support and protection around your ankles. Most importantly, its key feature is the inclusion of a rock plate. These are made of plastic or carbon fibre material either embedded within the midsole or sandwiched between your midsole and outsole to give you that extra protection against small rocks and other sharp objects.
Road vs Trail shoe Differences
Based on Cushioning
Each runner may require a different level of cushioning. The padding of your shoes determines if you either want to feel the ground or just float on it. However, the different types of cushioned shoes are based on the stack height, which is the shoe thickness between your feet and the ground.
Maximum Cushioning Running Shoes
Known as the best running shoes for injury prevention, these come with the maximum padding available, meaning more stack height. The thick padding gives you a squishy feel and is ideal for regular runners and marathon runners. They are suitable for your joints, and the impact on your feet is less.
Moderate Cushioning Running Shoes
These are the versatile kind of shoes which is apt for pretty much any type of run and have a good cushion for regular use. These are good for beginners and are the best running shoes for casual runners as it strikes a balance between long-lasting comfort and responsiveness.
Minimal Running Shoes
Shoes with a low stack height fall under this category. In other words, these shoes have minimum cushioning preferred by runners who like the feel of the ground. Runners consider these type as the best running shoes for impact, as your body tends to adapt a better gait and these shoes strengthen your knee muscles.
Barefoot Running Shoes
These have no-padding, that is to say, that they have no stack height. You will feel like you are running with just your socks on. These have wider fronts to help your toes breathe while running. Athletes and traditional runners prefer barefoot as it provides better balance while running and help them go natural.
Also check out Swami's take on the Top 6 Exercise Cycles In India 
Based on Pronation
Your feet rolls and moves inward upon impact on the ground. This spontaneous movement of your feet is called pronation. However, we do not want extreme pronation. Supination or underpronation, overpronation and normal are the different kinds of pronation.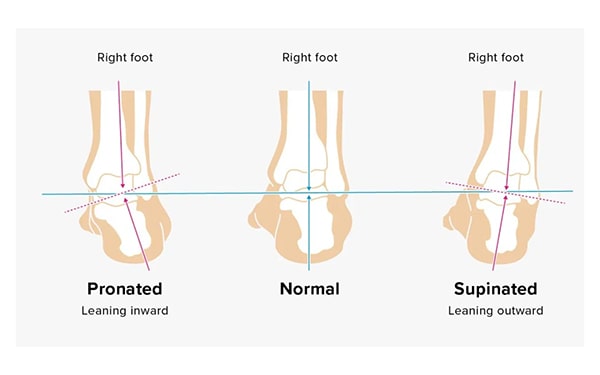 Normal or neutral pronation is the natural inward movement of the feet, usually about 15%. This lets you absorb shock and align your ankles and legs and is typically the case with efficient runners.
When your feet roll more than 15% inward, or downward (first example), you are prone to a lot of injuries. This condition is called Overpronation or most commonly as "flat feet". If you fall under this category, you have to get a pair of stability shoes that support your feet structure or motion control shoes in a few cases.
Supinators usually have their feet roll outward more than 15% and cause stress in their big toe. Not many people are affected by this condition, but people with high arches do. You can pick shoes which are more flexible and have more cushion on their outer sides.
Based on what type of pronation you categorize yourself, you can pick from 3 different kinds of shoe support to enhance your gait – Neutral, Stability and Motion Control
Neutral Running Shoes
These are the most common type of running shoes. These are designed with uniform density and cushioning and are suited for neutral, mild pronators and supinators and typically don't have any extra stability features.
Stability Running Shoes
Stability shoes are suitable for runners with little to medium overpronation. These have added features for stability and include guide rails for side-to-side motion. Stability shoes with light structures are well suited for normal pronators.
Motion Control Running Shoes
Motion-control shoes are the best fit for extreme cases of overpronators. These are not commonly found but are available in speciality stores. These are rigid and have stiffer heel compared to the other types and are built with wider soles.
Based on Speed
If speed is one of your essential aspects of running, then you must get a good pair of shoes that facilitates it. Runners who participate from 100m sprints to marathons or ultra-marathons pick shoes designed specifically for their needs.
Spikes
Spikes provide grip to your forefoot to get that extra push, generally needed for short distance 100m – 400m sprinters. These are quite stiff and have very minimal cushion support in the heel. The plastic or metal spike plates in the ball of the feet have a lot of spike pins to brace the force and speed in the tracks. They are not durable and are not ideal for concrete roads or other hard surfaces.
Spike pins are generally of 6mm, 9mm and 12-15 mm in diameter, for instance, 6mm is for athletes in track and field, 9 mm is for wet weather conditions like marathons and 12-15 mm is for extremely muddy conditions like the cross-country races.
Racing Shoes
If you are a pro runner looking for a pair of shoes for your 5k, 10k marathons, this is your ideal choice. They are ultra-lightweight. Therefore, they are sans cushioning and less stable. You definitely should have better endurance with strong feet muscles to use these shoes.
Lightweight training shoes
These are good for beginners and moderate runners but are not recommended for day-to-day use. Some of the features include reinforced toe, high abrasion rubber sole and flexibility. But these do not last as long and are to be changed every 500 – 800kms. The expected use is not more than 45 mins a day, around three days a week.
Daily Training shoes
Built to withstand the toil of daily use, these are designed to give you comfort around the feet; in addition, they offer you stability for your regular road running sessions. Suitable for beginners and intermediate runners, they offer a little less speed but are more durable.
Also check out Swami's take on the Best Men's Gym Shoes in India
You may also like
Other Types of Running Shoes
We are not done with the classification yet. There are a few more sections of physically active people to consider like the cross-trainers, joggers, walkers or the gym fitness freaks. Let's understand a bit more about these types.
Walking Shoes
If you are looking for a comfortable pair of shoes to take a stroll or walk your dog, these are the kind you need. They are built for comfort and are not suited for running or jogging. Walking shoes have less-cushioning, are flexible, but most importantly, do not have a flared heel.
Cross Training Shoes
Designed for athletes who do a range of different training activities, these have well-cushioned midsole to support your feet and give you stability. In other words, if you do a variety of high intensity, strength and cardio workouts, this is an ideal type that would best fit your requirements.
Jogging Shoes
You need a good pair of shoes to do your traditional warm-ups to wake up your leg muscles. Jogging shoes can help you here. They offer the best cushioning, breathability and comfort.
Gym Shoes
Gym enthusiasts who like to run on a treadmill, lift weights or perform step aerobics prefer this type. These offer extra ankle support for seamless forward and backward movement. However, these are not the best fit for long runs or marathons.
Also check out Swami's take on the Best Resistance Bands In India
Top Running Shoe Brands in India
If you were a frequent runner or were into any kind of physical routine like me, you will know how much pain it is to get yourself a pair of comfortable shoes. You have to do your homework before you pick the kind that suits well for the activity you do.
You cannot wear a pair of gym shoes for a 5k walkathon or marathon, and your trail shoes have to be kept off the roads. I must admit we are pretty lucky to have so many ingenious top shoe brands who custom design shoes and cater to our needs.
In this competitive market, where customer satisfaction is the key to survival, top companies do a lot of market research based on feedback from customers to improve speed and efficiency.
Now, let's check out these top brands extensively.
Nike
One of the top players in selling sporting goods, Nike, was found in 1964. It is said that Nike's founders Bill Bowerman, a track and field coach and his student Phil Knight started by selling shoes in the back of their car. The rest, as we say, is history.
Subsequently, Nike moved into fashion, making diverse youth apparels, accessories and sports equipment. But they are still best known for their track running shoes.
Nike's Vaporfly line of shoes has a new technological advancement that improves your speed by up to 4.2%.
Adidas
I wanted to quote the exact words mentioned in the company's site 'We started in the washroom and conquered the world'. Adidas is one of the oldest shoe manufacturers found by the Adi Dassler who was later joined by his elder brother Rudolf Dassler. It is headquartered in Germany. They are the second-largest in the world, after Nike and the leading brand in Europe. Similar to Nike, Adidas has an extensive line of clothing apparels and accessories.
Adidas is the first company to introduce microprocessors in their shoe, which makes the shoes ingenious enough to give you the best cushioning based on the environment. They are one of the significant suppliers of football kits and other associated equipment.
Also check out Swami's take on the Best Yoga Mats in India
Puma
In the year 1947, the Dassler brothers spilt up, and Rudolf Dassler formed a company of his own and named it Ruda. The name was subsequently changed to Puma. The hometown of the Dassler brothers, Herzogenaurachrivalry, has so many anecdotes about the rivalry between them.
Puma is the leading producer of Formula One NASCAR clothing, they are one of the pioneers in racing suits and driving shoes.
Under Armour
Under Armour is yet another leading footwear and sports apparel manufacturer. They produce the fast-selling speedform shoe, which has no insole and has very little stitching and connected running shoes which have Bluetooth module, gyroscope and accelerator in it.
New Balance
Termed as one of the world's major footwear and apparel companies, New Balance was formed in 1906. They manufacture footwear across a diverse range from running shoes to your everyday-use sneakers. They are famous for their line of running shoes, namely the fresh foam and FuelCell.
Asics
Asics, a leading Japanese footwear manufacturer is another player to make its mark. They started off selling basketball shoes and gradually ventured into other kinds like running shoes and other sports shoes.
They have speciality shoes for every crowd, for example, lightweight shoes, long-distance, marathon and training shoes.
Reebok
Established in England, Reebok is another leading footwear and apparel manufacturer. In 2005, Adidas acquired Reebok and combined the two footwear companies. However, they operate as separate brand names. Reebok Zig, Reebok Nano, Z-foam are a few famous lines of shoes.
Sketchers
Sketchers is another American manufacturer in the footwear business. They focus on casual footwear meant for walking and jogging. They have a variety of lines like the famous Sketchers Memory Foam, Skechers GOrun and GOwalk.
Avant
Avant is one of the best sports shoe manufacturers in India. They sell all kinds of running shoes best suited for the Indian terrain. According to its website, Avant, is a company on a mission to keep people moving.
Lancer
One of the largest producers of footwear in India, Lancer manufactures footwear from slip-ons to sports shoes. Its unique design gives you comfort and style. With top-notch imported manufacturing equipment, Lancer makes footwear in par with world-class standards and quality.
Also check out Swami's take on the Best Elliptical Trainers For Home Use in India
Best Running Shoes – Review
There is a wide variety of running shoes available out there in the market. Getting yourself a good pair of running shoes is a cumbersome process given the fact that you have to consider varied specifications like the cushioning, weight, sole material. Therefore, to ease your burden, I have come up with a comprehensive guide that lists the ten best running shoes in India.
Air Zoom Pegasus Nike's one of the flagship models, considered as one of the best Nike running shoes for men. Its slimmer design makes it lightweight, and its Flywire cable gives you a comfortable fit at elevated speeds. The Cushlon foam midsole makes it extra bouncy, that you can feel like bouncing with just the shoes on.
You can run that extra mile with ease, as the extreme-quality rubber prevents excessive wear and tear. They come in regular and extra-wide models. Air Zoom Pegasus is one of the ideal choices for track workouts, speed runs and is the best running shoes under 10000.
---
NB Men's Fresh foam running shoes are best long-distance running shoes in India. They have an excellent upper and midsole with laser-etched fresh foam cushioning. These impress you with their best fit and feel. Above all, these are incredibly lightweight.
---
One of the recommended models for overpronators and people with a neutral gait, these are best suited for daily trainers. They have sleekier outsoles and heat formed overlays. These shoes have lightweight Cushlon foam to give you a good midsole cushioning.
---
Considered as one of the best long-distance running shoes, these Asics shoes are suitable for most kinds of athletes. Cushioning gives you comfort and prevents injuries.
Its provides excellent breathability and helps you push further. These are the best marathon running shoes in India, and also the best running shoes under 4000. But these do not have great arch support.
---
Puma has developed its own technology in creating better running shoes. The Nrgy Comet is said to be one of the best running shoes for beginners in India. These ultralight pairs of sneakers have the EVA foam that provides enhanced cushioning, comfort and fit for your short runs. These are not much durable and not built for long marathon runs, but are one of the best running shoes under 3000.
---
Skechers Men's Dynamight Black Walking Shoes have a shock absorption midsole and a memory foam insole. These are your choice of shoes for walking and jogging in a slightly pricey category. Their front panel has elastic laces which help you to slip on to your shoes easily.
But sometimes they can be less comfortable and might need a break-in.
---
Also check out Swami's take on the Best Knee Support In India
These sports-inspired shoe collections from Adidas is one of the best sports shoes for running in India. These are ultralight with a thin midsole that makes the shoes almost flat, ideal for professional runners. Other features include upper meshing and the EVA midsole and outer sole. I would propose these as the best running shoes under 2500 in India.
---
Reebok's Protonium Lite is one of the best walking or jogging shoes in India, though it poses as a running shoe. These have a mesh synthetic upper, and the memory foam gives your feet the snug and comfort. Priced a little lighter, these can be the best running shoes under 1500.
---
Priced under 600 Avant Men's Ultra Light Running and Training Shoes are one of the cheap and best sports shoes available. They are ultralight and well suited for your runs or gym training. They have a thick removable insole for extra comfort and durability. Their padded sole and a round toe enhance support and a good grip. One of the downsides is that it doesn't have a durable outsole which makes it not so good for running.
---
These running shoes priced under 500 are stylish, casual, and the right choice for your everyday run. They are perfect for a wide range of sports activities and team up with your casual wears.
---
Also check out Swami's take on the Best Home Gym Set In India
Running Shoes – Buying Guide
When the footwear market has so much to offer, you have to undergo this meticulous process of finding a perfect pair of running shoes. You could be a casual walker, a serious runner, or just getting ready for your next marathon. No matter which category you fall into, this buying guide will give you a few insights.
Fit
You would never want a pair of shoes that makes you slip or trip and gets you injured. That is a headache for a good runner. So, proper fit is one of the foremost factors to consider before buying a shoe.
How to check if your shoe fits? You do it the old way, try it on, or you could do the new method, check for the size charts online.
Now, I want you to keep in mind a few essential tips, make sure you have a thumbs length from your big toe to the end of your shoe, don't lace the shoe tight and have about a thumbs width between the back of the foot and the edge of the shoe, and this assures breathability.
Remember, for every weather the size of the shoe alters a little, so you have to warm up a little bit and make the shoes feel comfortable.
Running Surface
For your every activity, there are varieties of shoes available. It is pertinent for you to understand that each shoe is designed to serve its purpose. Road running shoes are suitable for hard pavements, and gym shoes are meant for training.
Use
In addition to the running surface, you have to think about how far and how often are you running. You could be a frequent runner, training for a marathon, sprint, or just love casual walks, no matter what kind you fall into, you have to decide wisely.
Cushioning
So, how much cushioning do you need, you have to be the judge of it. Are you a minimalist and prefer barefoot shoes or love soft snuggly heavily cushioned ones. Decide and pick them. Experts opinion is divided on this, minimalists prefer shoes as thin as the barefoot, as it strengthens their knees and a few prefer cushioned shoes.
Pronation
Gait analysis helps you determine your best pair of shoes based on your natural gait. You could be a fall into either of the three categories – neutral, underpronation or overpronation.
What kind do I fall into?
The best way to find out which kind you fall into is by asking the expert. You can either visit a podiatrist (a foot specialist) or just walk to your nearby speciality store, wherein the specialists have a few ways to determine based on your gait.
Likewise, if you have an old pair of shoes, look at its wear and tear, or you could just check your type based on your footprint shape. Refer to the image below.
After the gait analysis, you can preferably choose between neutral or stability shoes. Runners with overpronation and low arches prefer stability shoes. If you have issues with underpronation or if you have a normal gait, neutral shoes suit you the best.
Also check out Swami's take on the Best Punching Bags in India 
Running Shoes – Frequently Asked Questions
Now let's take a look at the frequently asked questions about running shoes.
Can you wash your running shoes?
Yes, but you have to follow the care instructions that come with the package.
Can I machine wash my running shoes?
You can machine wash most of the running shoes, however, put them in a shoe bag before tossing them into your machine.
Also check out Swami's take on the Best Gym Gloves in India
Can running shoes go in the dryer?
Never, use hand dryers to dry them but make sure the shoes do not get heated up. Likewise, you can stuff newspapers inside your shoes to dry them.
What is a good fit for a running shoe?
Experts say that it's always better to have a snug fit rather than a tight fit at the midfoot and heel. You must have about a thumb's width between your big toe and the end of your shoe.
Which running shoe should I buy?
Based on the factors mentioned in the above section, pick the running shoe that best fits your requirements.
How to clean running shoes?
If you do not intend to machine wash your shoe, you have to clean them yourself. Remove the dirt off the uppers and outer sole. You can remove the insoles and clean them separately as well. Then, after washing them, air dry or stuff newspapers to fasten the drying.
How long do running shoes last?
4-6 months, if you are a regular runner, who runs about 20-30kms per week.
How to maintain my running shoes odour free?
Use of baking soda, salt, essential oils keeps the shoes fresh.
How to stretch my running shoes?
Try to wear them and walk around the house, freeze them overnight or wear them with 2-3 layers of socks on.
Which kind of running shoes is good for flat feet?
Nike Winfo 6 is good for flat feet.
Why do my running shoes squeak?
The rubber bottoms of your shoe or moisture content in your insole can cause a squeak.
What are the parts of a running shoe?
Conclusion
To summarize, I feel the Adidas Men's Drogos M is worth your money as it falls under the 2500 range, has some great features, and has more than 1000 approval ratings in the Amazon site. You should consider buying these to have a pleasant running experience.
But if you are a pro and are looking for some great speed and flexibility, Nike Mens Run Swift 2 Running Shoe is your best choice.
I hope this review comes in handy when you buy your next pair of running shoes. And all I would like to say is, good luck and do let us know what you think !!
---
---
We hope you love the products we recommend! Just so you know, Swag Swami may collect a share of sales from the links on this page.