What Is An Exercise Cycle?
In this day and age, it has become a necessity to take the time out every week and get a membership to the gym or a pilates or a yoga session. Some of us do not have the access to a gym nearby, and so the best alternative would be to workout in the comfort of our homes. There are a plethora of options to choose from and investing in an exercise bike is one of the easiest and effective choices. An exercise cycle is typically a stationary bicycle with no wheels, which can be kept indoors. It is a cardio machine used mainly by people to lose weight, improve stamina, and build lean muscle. It comes in a variety of models, each targeted to a particular audience.
While an actual bicycle offers a good cardio session that targets the legs, an exercise bike has features which help target the whole body. This article will help you shortlist the best exercise cycles in India, making your search relatively easier.
Best Exercise Cycles – Quick Comparison
Product
Dolphy Exercise Spinning Bike
Cockatoo Smart Series Foldable X-Bike
Best Value
Powermax Fitness Upright Bike/Exercise Bike
Reach Air Bike Exercise Cycle
Image
Folding Dimensions
103 x 24 x 82 centimeters
103 x 24 x 82 centimeters
100 x 20 x 20 Centimeters
42.9 x 108 x 72.9 Centimeters
Colors
Sky Blue and Parrot Green
Product
Dolphy Exercise Spinning Bike
Image
Folding Dimensions
103 x 24 x 82 centimeters
Image
Folding Dimensions
103 x 24 x 82 centimeters
Product
Cockatoo Smart Series Foldable X-Bike
Image
Colors
Sky Blue and Parrot Green
Image
Folding Dimensions
100 x 20 x 20 Centimeters
Best Value
Product
Powermax Fitness Upright Bike/Exercise Bike
Image
Folding Dimensions
42.9 x 108 x 72.9 Centimeters
Product
Reach Air Bike Exercise Cycle
Image
You may also like…
Also check out Swami's take on the Best Treadmills For Home Use In India
Types Of Exercise Bikes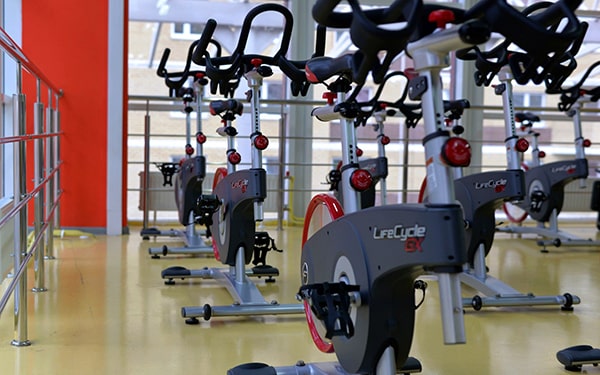 There are many options for you to choose from when it comes to exercise bikes. Demand has been on the rise steadily as people are getting more health conscious but have no time to commit to a gym membership. Exercise bikes provide less stress on your joints without compromising on intensity. Based on your budget, intensity and resistance preferences, you have a variety of options to pick from.
Upright Exercise Bike
The upright exercise bike is how a typical cycle would look. You would be positioned on a seat with your arms on the bike handles, just like riding a regular bike. This type of a machine has no back support, and so it demands more of your energy while you pedal. This in turn burns more calories. A typical upright bike weighs about 10-12kg, and they normally come with adjustable foot straps on the pedals. The bikes are made of steel and plastic with foam grip handles and they come with an LCD display to monitor your progress like time, speed, distance, heart rate, and calories burnt.
Recumbent Exercise Bike
This type of machine allows you to recline your back while you are seated on the cycle. It offers support while you workout for long periods of time. If you want a less intense workout with more flexibility with safety, then recumbent is the way to go. Older people and people who cannot strain much can comfortably use this machine as it is gentle on your back. As there is more support that comes with the product, it is slightly on the heavier side and weighs about 20-35kg. It is also easy to read a book or watch something on your phone as you work-out because you wouldn't have to balance as much, when compared to an upright exercise bike.
Combination Or Hybrid Exercise Bike
A hybrid exercise bike provides a dual performance where it helps target your upper body as well as your lower body, both in a single machine. It helps you cross train and cardio train, as per your requirement for the day. It comes with a comfortable and large seating which supports a two-in-one workout regime for a high impact workout session. HIIT advocates would definitely recommend this cycle for a full body workout within a short period of time. It weighs about 25-50kg and is comprised mostly of steel and aluminium alloy material.
Spinner Bike
Spinners are used mostly for low impact cardio training sessions, and the main difference between an upright and a spinner bike is the position of the handle. The handle is much lower in a spinner bike and you would have to bend more, which works the core immensely. These bikes also come in steel bodies, and they weigh about 25-50kg, depending on the brand. They help burn about 500 calories per session easily, without hurting the knees too much. They come with a vertical adjustment seat configuration, which can be varied depending on your height.
Air Bike Or Fan Bike
The major difference with an upright or a spin bike and an air bike is the type of resistance used. The air bike comes with independent handlebars to support the upper body and uses a fan which is driven by the speed at which you pedal to create resistance. Hence, there is no upper limit for resistance created. The body is made of steel and has all the basic components similar to the upright bikes like adjustable seating, handlebars, and an LCD display.
Cardio Strider
The cardio strider comes with a unique smooth striding cycle with a belt driven system that eases the impact on the knees. It weighs about 20kg and comes in a steel casting. It has a vertical height adjustment, and an LCD screen to monitor the workout parameters.
Interactive Exercise Bike
An interactive exercise bike comes with an interactive user interface with a performance tracker that tracks your speed, distance, time, calories, and heart rate. They are made with alloy steel material.
Manual Vs. Electric Bike
In a manual electric bike, the resistance increases proportionately with the speed of the pedaling. As you pedal faster, the resistance keeps moving up the scale. An electric bike allows for manually selecting the resistance level at the start of your workout. A manual bike mirrors a real bike more than an electric one which offers a smoother experience comparatively. There is less exertion owing to the presence of adjustable gears.
Mini-Bike
These exercise bikes aren't exactly bikes, as their entire design is just the pedals on both sides, without the seating and the handlebars. They are extremely effective for low impact workouts which can be used by older people or people who are recovering from surgery. These come with a foldable feature, which makes it a portable machine. They are made using polypropylene and they weigh just about 2kg.
Also check out Swami's take on the Best Home Gym Set In India
Top Exercise Cycle Brands In India
Kobo
Kobo is an Indian brand that manufactures and exports fitness equipment for commercial and home use globally. They are a trusted brand who have been in service for more than 50 years, and they take care to ensure the best quality to be available for the customers. They do offer a wide range of discounts for trainers, schools and gyms who would be willing to stock their equipment. Their quality is top notch and they have a good range of products like gym gloves and other fitness accessories. The exercise bikes from Kobo have a magnetic resistance feature, which eliminates wear and tear with regular usage. The newer models also come with USB and Bluetooth features to connect your devices to stream music while working out. They offer a warranty of at leastatleast three months, within which a replace is guaranteed if the machine malfunctions.
Powermax
The major goal of Powermax fitness is to make exercise fun and accessible to all the people in the world and lead healthy lives as a result. They offer affordable equipment without compromising on the quality of the product. It is an ISO certified brand for quality assurance. They have a range of equipment for home use and commercial use which include massagers as well. They have all three types of exercise bikes- Upright, Recumbent and Spinning bikes to choose from. Free installation assistance is provided through a voice or video call, if required, which is a great feature. Their LCD display provides an odometer and a scanning software. Powermax also offers bikes at a budget friendly price, as their main aim is to make their equipment accessible to everyone on the planet.
Cockatoo
Cockatoo has it's foundation from Anand Brothers in 1961, which has now developed into a global brand and has it's products designed in Australia. They deliver some of the world's best fitness equipment, keeping in mind what each user needs and provides individual attention and care. Cockatoo also offer after-sale service which comprises a team of dedicated staff that extends support after the purchase of a Cockatoo product. They pride themselves with customer satisfaction as their sole priority. Cockatoo started off as a sporting company, specializing in sports accessories, and now have extended into gym equipment as well, cardio training being an important one. They also have all three types of bikes- Upright Magnetic, Recumbent and Spinning Bikes.
Dolphy
Dolphy is an Indian originated company that uses heavy duty steel to make most of its bikes. They have adjustable seats and handlebars with a built-in tablet holder and a water bottle holder. Dolphy cycles are easy to assemble and have greathave a great stability. They have good service to help with installation queries as well. It offers all the best features at a reasonable price range. The customer satisfaction is commendable and is a very good investment to improve your health. The LCD display is flexible and has a pause feature which keeps the time if you want to take a break and get back after a bit. They come with resistance knobs that can be turned step by step to gradually increase the toughness.
Fitkit
Fitkit is a brand that combines fun and workout and have taken this rather seriously. They have the feature of combining your workout sessions with video games to make your workout as memorable as possible. You would just have to pair your device to their mobile app, and you'd be good to go. They also provide a complete fitness solution that includes many free services like installation services, diet trackers and diet plans, activity and step trackers, personal training sessions, doctor consultations and a wide array of fitness videos to choose from. They have well-trained nutritionists that provide you with a suitable diet plan to help reach your fitness goals, combined with exercising of course. All of these wonderful services, and at an affordable cost. Need I say more? FitKit is the perfect package.
Reach
Reach is a brand that creates innovative gym equipment to meet the fitness requirements of its customers. They make versatile air bikes that target both the upper body and the lower body equally. Their machines are built for low impact and challenging workout sessions. These cycles come with a belt drive, air resistance or a magnetic resistance system and with a cushioned adjustable seat. They have excellent support services that customers can bank on. They have all three exercise bike models. The maximum user weight for all their bikes is 100kgs.
Also check out Swami's take on the Best Elliptical Trainers For Home Use in India
Top Exercise Cycles In India- Review
Dolphy Spinning Bike comes with adjustable handlebars and a water bottle holder. They also come in two seat colors- black and orange and they would dispatch the colors according to the availability at the time. They have a video call assistance if you might require any help with assembling the product. Dolphy bikes are extremely safe for unsupervised or untrained users as they come with an instant brake system. A unique quality of this bike is that it supports about 160kgs of body weight, which is much higher than most exercise bikes. They also come with a built in tablet holder, on which you can place your tab to watch videos or listen to music as you workout.
It comes with dual transportation wheels, which is easy to remove and roll out. They have a quiet belt drive technology which gives you a quiet and smooth ride. All these features make Dolphy a good buy as safety comes first, even if you have to spend just a little more than planned. Dolphy makes cycling at home a wonderful experience with all the basic necessities. The machine build is pretty stable considering the fact that it can hold upto 160kgs. There have been amazing reviews about the ease of installation and the sturdy nature of this fitness cycle.
---
Fitkit FK717 is the complete package. It has a 14lb flywheel and a multi-level resistance system to intensify your workout. It also comes with an LCD monitor that tracks your specifics like heart rate, time, speed, distance and calories burnt. The interesting part is that this brand has an app called FitPlus and you can connect your spin bike to this app to unleash the numerous features available like diet tracking, 6 month diet plan, activity tracking, personal trainer sessions, fitness videos and even doctor consultations.
The bike comes with a resistance knob, which can be turned to increase or decrease the resistance level. It also comes with an inbuilt heart rate sensor which can be digitally viewed on the display monitor. The pedals come with toe cages that lock your feet to prevent slippage. Their after sales support team are dedicated workers who provide all the help required until you are comfortable with your product. FitPlus can also connect with Fitbit and Google Fit for effective tracking.
---
Cockatoo is one of the best brands I can think of when it comes to resistance levels and brake systems. It has a magnetic brake system and eight levels of resistance which is magnetic which helps to increase the intensity of your workout session. This also has a foldable feature, and storage is now not a problem. It is most useful for small spaces and homes. It can be folded and neatly stored inside a cupboard. There is an LCD monitor which tracks your time, distance, speed and calories. It is a GS approved bike and comes under the smart series foldable bikes. This bike specifically targets people who have back pain, who need extra lumbar support, and works the glutes and legs mostly.
This gym bike also comes with a flywheel weight, that helps you cycle both in forward and in reverse motion. This is the two-way bearing advantage. The cycle also has a three-piece crank that gives some balance. Cockatoo comes with color options, namely sky blue and parrot green. The best thing about this bike is that it comes with a two-year warranty. Cockatoo is one of the best cycling machines and is value for money.
---
Kobo designs really good bikes for weight loss. They target safety as an important factor to consider when building their bikes. They also come with a seat adjustment feature, being an upright bike. Many customers are happy with Kobo as it gives them a smooth and hassle-free workouts. The item weighs only 16kg which makes it easy to carry around and does not take up much of your room as well. It comes with an electronic meter which displays your speed, distance and calories burnt, which makes it easy to track your progress.
Kobo also comes with an adjustable resistance which helps you to increase your difficulty as you go along. The Kobo experience makes cycling at home a memorable experience. It has a user weight allowance of a maximum of 120kg, which is about 20kgs more than standard exercise bike loads. It comes with a supportive saddle and makes your session really comfortable. This fitness bike comes in a silver color and is made of steel frame.
---
The most striking quality of Powermax is the fact that they have a free installation service provision for everyone, and it is easily accessible as well. All you have to do is call or Whatsapp the toll number that is provided. This fitness cycle is an air bike with a belt drive system, just like Reach. They also have a video made which explains in detail the steps involved in installing your product, which I think is extremely thoughtful of them.
The gym cycling machine comes with an LCD display which shows the time, speed, distance travelled, calories, scan and pulse. It basically has everything you need to know when you are cycling, at your fingertips. Like most cardio machines, the heart rate sensor is present on the handlebars. They also have pedal straps that come with the pedals to keep your foot in place when you are cycling on the gym machine. This is an upright bike, and it comes with a seat adjustment and a comfortable cushioned seat. The entire set up gives you the experience of working out in a gym. The exercise bike comes with a micro adjustment tension control too. All their products are of good quality and a Powermax buy will sure be a worthwhile one.
---
Reach is one of the best brands I can think of when it comes to exercise bikes. Most of their models have an amazing black color which is so sophisticated and cool. It is the best exercise bike in India, and you wouldn't have a problem in shortlisting this bike. They have a range of models to choose from, although the air bike is a favorite.
They come with a resistance knob, belt drive, monitor, vertical height adjustment, cushioned seat and a pedal with a strap. Reach claims that it is designed to move the way we do. Their bikes can be used for both cross training and for cardio and cycling. It is portable, lightweight and easy to use which makes it one of the top bikes in India. It has an unmatched durability and performance level when compared to other brands. This is a brand that is recommended by many. You would not regret it.
---
You may also like…
Also check out Swami's take on the Best Running Shoes in India
How To Choose Exercise Cycle Brands In India- Buying Guide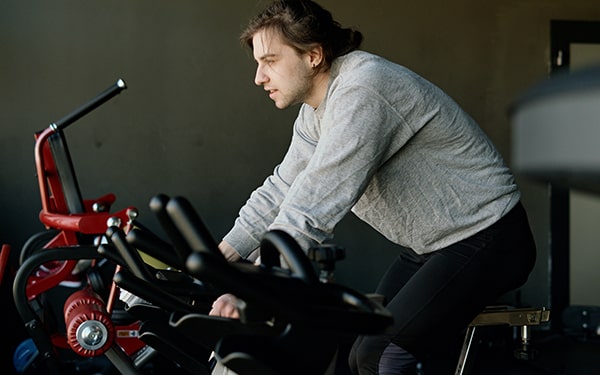 While choosing a bike, various factors are to be considered depending on your individual needs and likes. You need to check the type of bike like for example an upright bike or a recumbent bike to choose between. Depending on what you want to achieve with the exercise bike, like focusing on just cardio, or both cardio and cross training, or wanting to check your heart rate while you exercise, your height requirements and specifications, you need to select the right bike.
Fitness Goal / Aim
Your fitness goal should be the major criteria for choosing an exercise bike. If you want to lose weight, you need to choose a brand that focuses on more cardio, and if you want to improve muscle mass and gain strength, then you will have to choose a cycle accordingly. Without realizing what your goal is, it is not recommended to look for an exercise bike as it may give you different results.
Display And Heart Rate Monitor
Most cycles come with an LCD display. It shows your time, distance, speed and calories as well at times. If you need to know your heart rate, then you will have to go look specifically as not all bikes have a heart rate monitor.
Seat
Good brands have a nice cushioned seat with comfortable seating. They also have a vertical and horizontal seat adjustment to raise or lower the seat as per your convenience. Some brands have just the vertical adjustment, so if height is an issue, then you would have to choose a suitable brand.
Weight Limit
Most brands like Reach and Kobo have a maximum weight limit of 100kg, which is a reasonable amount. There are brands like Cockatoo which has a limit of about 120kg. So if you are looking for a higher limit, then certain brands work better than the others. The tabulation in the previous heading shows the weight limit for each of the best brands.
Weight Of The Bike
The weight of the bike is an important consideration. Some bikes are first class but are way too heavy to be moving it around a space. If you need your workout bike to be portable, you need to choose a lighter one, like say 15-16kg. There are some foldable concepts as well, which take up minimal space and are hassle-free.
Price
And finally, the most important factor- price. The first thing that comes to our mind is budgeting. These brands have outdone themselves by making their best bikes affordable and inexpensive for everybody. They sure are value for money and are great performers.
Also check out Swami's take on the Top 8 Men's Gym Shoes for Workout
Exercise Cycles- Frequently Asked Questions
1.
Are Exercise Bikes Good For Weight Loss?
Yes, exercise cycles are great for losing weight. They target all the problem areas, and when done consistently, they work wonders.
2.
Are Exercise Bikes Good For The Knees?
Unlike a treadmill, cycles do not hurt the knee as much, so it can be used without worry of damaging your knees. People with knee problems can workout on a gym bike.
3.
Can Exercise Cycles Reduce Belly Fat?
Cycling definitely helps eliminate belly fat. Spinning cycles especially help target the stomach area due to the positioning of the handles which make you body bend forward while cycling.
4.
Can Exercise Throw Off My Menstrual Cycle?
While regular exercising is essential for maintaining a good cycle, sudden vigorous workout can throw off the menstrual cycle due to hormonal imbalances and changes.
5.
Which Exercise Cycle Is Best For Home In India?
Any good upright exercise bike like Reach or Cockatoo are good bikes for home in India. They are affordable and easy to install too. They come with a free installation service which can be utilized from the comfort of your homes.
6.
How Much Is An Exercise Cycle?
In India, exercise cycles cost anywhere from Rs. 5000 to Rs. 25000. Most good ones come under the 10000 range.
7.
Where To Buy Exercise Cycles?
Exercise cycles can be bought online on amazon.in or the respective brand websites.
Also check out Swami's take on the Best Yoga Mats in India
Conclusion
In conclusion, if you want to buy a good exercise bike, choosing from one of these brands would guarantee you a good machine. They are reliable, affordable, and can be safely utilized in the comfort of your home. The best part is that you can order these cycles online from amazon, and they also provide you with a free installation service and a two year warranty. The best value for a bike would be in the range 10k-15k and you would get all the excellent features that you would require in a home exercise bike, which would give you the gym experience. Cockatoo and Powermax both fall under this category and they have amazing reviews as well and are bestsellers this year. I'm sure this article has made your search a little bit easier.