Punching is an effective full-body workout, don't you think? A heavy bag is used as an aid to help you punch with immense force. This eventually tones your upper body and helps build muscle.
Irrespective of whether you are looking for the best punching bags in India, best punching bags for beginners, or best punching bags for home, you'll need to consider a few things before you buy.
What Is A Punching Bag? – A Quick Intro
A punching bag is a sturdy stuffed, or inflated bag suspended from a ceiling or fixed to a stand and used to train boxers. Punching is an efficient workout for anyone wishing to tone their upper body. A punching bag is designed for repeated punching. It is normally cylindrical and is filled with materials of various hardness. Punching bags are usually used in military training, martial arts and combat sports. They are filled with grains of sand.
Best Punching Bags – Quick Comparison
Product
XPEED Adjustable Height Boxing Dummy
Best Value
LEW Punching Bag
Byson Punch Boxing Kit Set
Image
Ideal for
Boxing, Muay Thai, Mixed Martial Arts
Kickboxing, Boxing, Muay Thai
Kickboxing, Boxing, Muay Thai
Kickboxing, Boxing, Muay Thai
Package
1 punching bag unfilled with 1 hanging chain
1 punching bag unfilled, boxing gloves, hand gripper, boxing glove keychains, hand wraps, steel chain, jump rope
1 punching bag unfilled, 1 hanging chain
1 punching bag unfilled, 1 hanging chain
Product
XPEED Adjustable Height Boxing Dummy
Image
Image
Ideal for
Boxing, Muay Thai, Mixed Martial Arts
Package
1 punching bag unfilled with 1 hanging chain
Image
Ideal for
Kickboxing, Boxing, Muay Thai
Package
1 punching bag unfilled, boxing gloves, hand gripper, boxing glove keychains, hand wraps, steel chain, jump rope
Best Value
Image
Ideal for
Kickboxing, Boxing, Muay Thai
Package
1 punching bag unfilled, 1 hanging chain
Product
Byson Punch Boxing Kit Set
Image
Ideal for
Kickboxing, Boxing, Muay Thai
Package
1 punching bag unfilled, 1 hanging chain
Also check out Swami's take on the Best Treadmills For Home Use In India
Types Of Punching Bags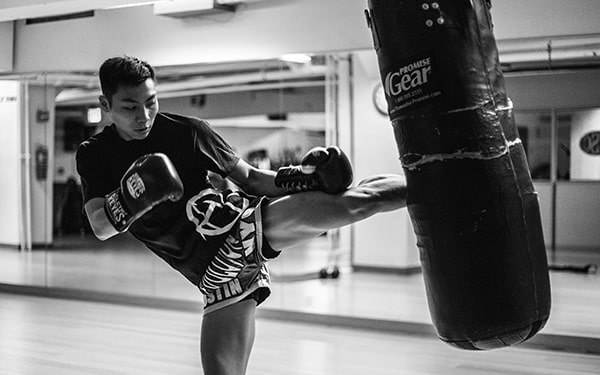 There are many kinds of punching bags, which can be daunting when trying to buy one. Here is a compilation of the different types of punching bags from which you can choose.
Free Standing Punching Bags
Freestanding punching bags are usually attached to a heavy base filled with water or sand. They do not need to be mounted and can stand by themselves. Foam mats are placed underneath to keep the bag from sliding. The disadvantage is that freestanding punching bags can withstand lesser force than the other types.
Heavy Punching Bags
A heavy punching bag can withstand more resistance. The heavier the bag, the better the resistance. When you train on a heavy bag, your punches become more powerful. These bags are used for intense training sessions.
Kickboxing Punching Bags
Kickboxing punching bags are essentially the same as heavy punching bags. They have optimal resistance for regular strength training and are usually padded for comfort. Some noteworthy brands are LEW and Aurion.
Muay Thai Punching Bags
Muay Thai is an art that resembles kickboxing. But in addition to using kicks and punches, knees, elbows and upper body grappling are also used. Muay Thai is rightly known as the "art of eight limbs".Bagwork is an important part of Muay Thai training, and heavy punching bags are well-suited for this martial art.
Speed Punching Bags
Speed bags are small punching bags used to improve stamina and hand-eye coordination. They come in different shapes and sizes and are found worldwide. Speed bag training allows you to throw stronger punches quickly and with ease. Speed bags are generally smooth, but it is advisable to use wraps or padded gloves to avoid abrasions to the hands.
Uppercut Punching Bags
Uppercut punching bags are usually horizontally suspended instead of vertically as you would normally find regular bags. They help you with practising your uppercuts and learning technique and hand placement.
Body opponent punching bags are one of the coolest types of bags used. They are made of a life-sized mannequin with vinyl skin for more realistic self-defence sessions. You can fill the base with sand or water. Height adjustments are included for comfortable positioning.
Wall Mount Punching Bag
Setting up a wall mount is similar to a ceiling mount, where you first install the wall mount on a stand and then attach the bag to it. These bags are more economical since they cost less with respect to weight.
Water Filled Punching Bags
A traditional heavy bag does not absorb much of the shock from the hits it gets. This impact puts stress on your body and can tire you out. On the other hand, a water-filled punching bag has high kinetic shock absorption capabilities. This low impact quality causes less stress to the body.
Sand Filled Punching Bags
As the name suggests, sand-filled punching bags come with sand-filled in them. These bags can feel too heavy or dense, so it is recommended to use one containing clothes or fabric in addition to sand.
Foam Filled Punching Bags
These bags are filled with foam. Foam-filled punching bags are easy on the hand- you will not get bruised that easily.
Top Punching Bag Brands In India
Many reputable brands in India sell good punching bags. Here are some of the best brands you can buy.
Byson
Byson is a leading manufacturer of boxing supplies that also exports all kinds of fitness items. The International Boxing Council collaborates with the brand to help with the design. They use double-stitched high-quality SRF material. They come in black and white. The brand goes by "you get what you pay for" and "the best a player can get". Need we say more?
Aurion
Synthetic and twin-layered AUrion punching bags are hand-stitched and have long-lasting durability. The set scones with hand wraps, steel chains and tether straps. The bag is filled with shredded textile- this helps reduce any bruising to your hands. It is safe, shock-absorbing and holds the bag's shape even after rigorous training. A polyester inner lining drastically minimizes excessive wear and tear. Synthetic leather provides resistance against water and acts as a barrier against liquid absorption.
RMOUR
RMOUR makes punching bags with high quality and durable material suitable for indoor and outdoor use. They make punching bags for karate, kickboxing, MMA or Taekwondo. Black and red are the two most popular colours sold by this brand. If you want a good boxing experience, RMOUR is the brand to go.
IWIN
It is safe to say that IWIN is a brand that believes in using good quality material to enhance the longevity of its product. Their colour of choice is a standard black, and they come with a hand wrap to avoid any injury to your hands while punching the bag and a chain combo kit as well -it's the whole package. |You can fill the bag manually with cotton or sand.
Hard Bodies
This brand designs punching bags for super hard punches and extensive training sessions. They have special seams, which ensures longevity. The bag fits into any room or even on your terrace. You can practise both upper and lower cuts with the Hard Bodies punching bag. They ensure reliability for any kind of training, from martial arts to full body training.
LEW
The LEW boxing punching bag trains every muscle in your body to make them strong and flexible. The bags are made of excellent quality material and are lightweight, durable, and waterproof. The bag includes boxing gloves, a focus pad, hand wraps, hanging chains, and a skipping rope!
KORE
High-quality PU material is used to make the KORE punching bags. The bags are double stitched and have d-shackles to reinforce them. You can fill the bags with old clothes, cotton, or even plastic bags. The package comes with a punching bag and a hanging chain to immediately get you up and going. The inner layer of the double-stitched bag is made of high-quality polyester. And the topcoat is water-resistant hide leather.
You may also like…
Top Punching Bags in India – Review
This punching bag is designed to offer comfort and is super convenient- you can work out in the gym or at home. This freestanding bag is extremely sturdy and can take a hit without toppling over. A durable vinyl shell encloses a shock-absorbing foam and a base pad for protecting you while kicking the bag. This is a non-hanging punching bag, which is easily portable and ideal for home or gym use. Black is the standard colour that the product comes in. For lasting life of the base, and is recommended to fill the bag. Although there is no warranty on the product, amazon return policies are always available. A minimum of 20kg sand is needed to fill the base, and you can increase it as you keep practising.
---
This unfilled punching bag with a decorative textile filling can withstand even the worst blows. They retain their shape no matter what. The gloves are equipped with gel foam for good shock absorption and efficient power transmission. The gloves protect your hands from injuries. This product offers guaranteed durability and comfort for athletes. A hook at the bottom can connect the loop to prevent excessive movement. This bag comes with punching gloves, Ceiling hooks, and a steel chain.
---
The RMOUR PU red punching bag is one of the best punching bags in India. It comes as a package with hand gloves, steel chains, hand wraps, and even a jump rope, which is useful to build stamina. You can use this punching bag for kickboxing, boxing and Muay Thai. The outer material is made of leather and is manufactured in India. The bag is unfilled, so you would have to fill it up manually, either with cotton or sand. The bag is made of the best quality and is guaranteed to last long.
---
The LEW Punching Bag includes a skipping rope, punching bag chain, punching gloves and hand wraps. This is one of the best punching bags available in India. It burns calories fast while improving your speed and endurance simultaneously. The LEW Punching bag would give you a high-intensity workout that can wash away all your stress at an affordable rate. The stainless steel hook comes in a 4S type hook that can hold up to 100kg weight.
---
This is primarily a Muay Thai boxing punch bag. It is soft, can absorb shock, and protect you from getting hurt during your training sessions. It is user-friendly- anybody can train karate, kickboxing or other martial arts. The package comes with 1 unfilled black punching bag and 1 hanging chain to suspend the bag from the ceiling. RMOUR does not have filled punching bag options, so you must fill it up manually. The bag is fully double-stitched with reinforced tape and will last for a very long time. So, quality will not be an issue with the RMOUR Heavy PU Punch Bag. Three sizes are available: 3 ft, 4 ft, and 5 ft with a diameter of 18 inches.
---
The Byson punching bag is strong and hard and has four hooks to hang it. The material used is a strong rubberized leather, and they pride themselves on making the best designs for their bags by experienced workers. You can fill the empty punching bag with cotton or old clothes. The package comes with boxing gloves that are stylish and long-lasting. They use the best material to manufacture the gloves and are filled with cotton. Two sets of hand wraps are also included with the package. They come in two sizes and are made of nylon material for strength and absorb shock. A handgrip, mouth guard and a skipping rope are also included with the purchase. All the items are durable and are long-lasting.
---
Also check out Swami's take on the Best Elliptical Trainers For Home Use in India
Which Punching Bag Is Right For You?
You might be wondering how to purchase a punch boxing bag, what with all these different options around you. It could be intimidating, but it is not. A general rule is that the punching bag should weigh approximately half your body weight. A hanging bag weighing about 80 pounds is a good place to start for most people. A good punching bag should provide enough resistance for your training- not too much and not too less.
Difference Between Traditional Punching Bags and Mixed Martial Arts(MMA) Bags
A mixed martial arts punching bag is typically longer and thinner than a traditional one. This difference is because MMA artists have to be able to punch and kick the bag during their training. On the other hand, a traditional punching bag is shorter and larger in diameter. A standard MMA bag weighs around 100 pounds, while a heavy bag weighs 80 to 120 pounds. An MMA bag consists of a water core which is easier on the hands, while a traditional bag has solid padding.
How Do You Fill A Punching Bag?
FIlling your punching bag is recommended because you can control the customization of the bag all by yourself. To fill a lightweight boxing bag, you can use foam, cloths, old clothes, or fabric strips. You have to fill your bag one layer after another in a compact manner. Or else, you might find yourself with a funny looking bag with many air spaces. Use a broom or a stick to make the filling compact.
If you would like a heavier bag, fill it with sand or sawdust. To ensure the bag does not tear because of the weight, you could fill the middle with cloth or fabric. FIlling it just with sand could be super hard on your hands and could even cause the bag to tear.
Here is a step by step guide on how to fill a heavy punching bag:
Choose what filling you would like- a lightweight or heavyweight filling.

Prepare the material for the filling- pour sand into bags, wrap them with tape, and weigh the filling.

Fill the bag. Use the required tools to make it compact.

Zip the bag close after you are done. You're ready!
Is A Punching Bag Worth It?
A punching bag is a good investment if you want to build stamina and strengthen your core. It helps improve your overall health. Boxing is a demanding sport, and it would require you to use all your muscle groups. You would eventually build lean muscle in no time. So yes, a punching bag is a good idea!
You may also like…
How To Choose Punching Bags In India – Buying Guide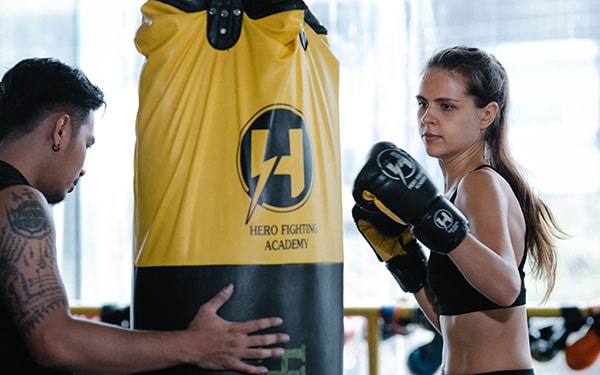 There are so many options to choose from, but which one to choose?! You might need to consider a few factors and weigh out the pros and cons before buying one.
Material
The most common material used to make punching bags is leather. Almost all bags are made with leather or synthetic vinyl material, or canvas. There are different grades of leather used to make them, and based on your preferences, you can choose which material would suit you best. The type of material used to make the bag plays a role in the durability and life of the bag. So, choose wisely.
Filled Or Unfilled Bag
A filled bag means that the bag is filled with sand or cotton. It comes ready-made. An unfilled bag would be just the outer material, and you would have to fill the bag with what you'd like. If you want a lighter bag, fill it with cotton or fabric. Sand or sawdust would fill a heavy bag. The advantage of buying an unfilled bag is that you can customize the bag's weight depending on your size and requirement for training.
Type Of Your Training
These days, you get so many variations of punching bags depending on what you want to practice. They have bags specially made for Muay Thai, Karate, Boxing, Taekwondo, and even strength training. The size, weight and filling of the bags would vary based on what you want. An MMA bag would be longer and thinner, whereas a traditional boxing bag would be thicker and shorter.
Type Of the Bag
There are typically two types of bags- a traditional bag and a Mixed Martial Arts Bag. The traditional bags are used solely for boxing, and the MMA bags are used for both boxing and martial arts- so hands and legs would both be used to punch or kick the bag, respectively. Such bags need to be longer and thinner for easy kicking. A traditional bag need not be as long and thicker as only the upper body is tackled in this scenario.
Weight
Depending on your height, weight and stamina, the size of the bag is very important. The bag must weigh approximately half your weight for a good boxing experience. The standard heights available in India are 3 feet, 4 feet or 6 feet. The weight would vary accordingly. Standing bags can be much heavier than hanging ones, especially the dummy punching bags, which can weigh about 100 kgs! The lighter ones range from 300 pounds to 5 kgs.
Filler Material
Different fillers can be used for punching bags based on what you want. A lighter bag is filled with cotton, or old rags or clothes, whereas a heavy punching bag is filled with sand or sawdust. You can use clothes to fill up the middle of the heavy bags to offer better support and prevent injury to your hands while boxing. Some bags are filled at the time of purchase while others have to be filled by you at home.
Safety
Most punching bags come with hand gloves or hand wraps to prevent injuries to your wrists. They are made of high-quality material that act as a protective barrier and cushions the wrist. Be sure to look for products that have all these items in their package, or else you would have to buy them separately. Safety is paramount when boxing, or it could lead to serious injury.
Price
Depending on your budget, there are many options for you. You have bags under 600 and bags that cost up to 30,000. There is something for everybody. The cheaper bags do not compromise on the quality of the leather or design. They are as good as the expensive ones, so there is no question of compromise.
Also check out Swami's take on the Best Gym Bags In India
Punching Bags – Frequently Asked Questions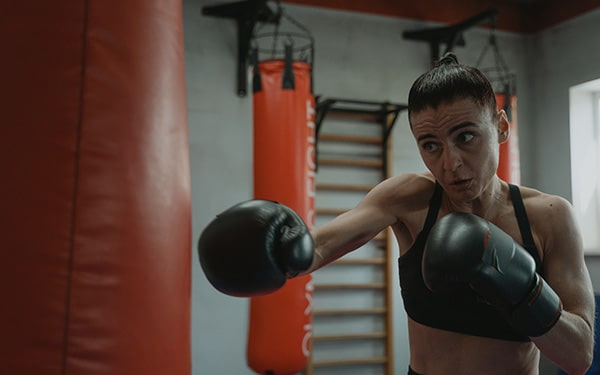 Are punching bags a good workout?
Yes, punching bags are good for all your muscle groups and are a good cardio workout. Boxing can be a refreshing workout as it helps with stress management and helps drop calories.
Are punching bags waterproof?
Most punching bags are waterproof. They are usually made of high-quality leather that can withstand external environmental stress. MMA bags are sometimes filled with water in their core.
Are punching bags good for anger?
Boxing is an outlet for anger. It helps you punch away your anger effectively while also teaching you to positively control and focus your anger. Boxing helps relieve mental stress and clears your mind.
How are punching bags made?
A heavy synthetic thread is woven to stitch pieces of leather together. Sometimes, vinyl or canvas is also used. And then, the bag is filled with either sand or cotton to fill it up.
Which punching bag should I buy?
It can be daunting to decide which punching bag to purchase. Depending on whether you need it for just boxing or for practising martial arts, and considering your height and weight, different kinds of boxing bags are available. Of course, the cost is also an important factor. The RMOUR punching bag is a good choice.
How heavy is a punching bag?
A punching bag can weigh as much as 100kgs or as little as 300 pounds. Which bag you must get solely depends on the end-use.
Which punching bags are good for home use?
Any hanging or freestanding punching bags are good for home use. Make sure it does not take up too much space. Smaller sizes are recommended.
Which punching bag is best?
The RMOUR and LEW punching bags are really good. They are quite affordable, and they come in black and red.
What is a punching bag?
A punching bag is a stuffed or inflated bag suspended from a ceiling and used by boxers or martial artists.
Where to buy punching bags?
You can purchase punching bags in sports shops like Decathlon or online on Amazon India.
Can punching bags make you stronger?
Punching bags helps build lean muscle, improve your stamina, and makes you stronger.
Are punching bags loud?
If you live in an apartment or a community, punching bags can be slightly noisy, especially if you work out early in the morning when the neighbourhood is quieter.
Are punching bags bad for you?
Punching bags can cause injuries if not used correctly or if the filling is too hard. Using gloves or hand wraps is a good way to prevent injuries to your wrists or upper body.
Conclusion
Boxing is a good sport to take up, which helps your physical and mental health. Investing in a punching bag is a good decision to help you live a healthier life. We have discussed all the different kinds of punching bags in detail, including the top brands from which you can choose. LEW and RMOUR are two of the highest-rated bags on Amazon. They are affordable and are guaranteed with high-quality material for long-lasting life. This article should have helped you narrow down your search and make an informed choice. Happy Shopping!
---
---
We hope you love the products we recommend! Just so you know, Swag Swami may collect a share of sales from the links on this page.