In this tech-savvy world, which is filled with gadgets of all kinds, camera drones have been there for a while now. Not just for war or military purposes, drones have been used extensively in a lot of fields from wildlife to wedding photography. Just a simple web search for the Best drones in India would get you an overwhelming response with a variety of models and features from which to pick.
After all, every person has their requirements to buy a drone; they could look for a budget drone, the best 4k drone available, RC drone, DJI drones or just the best drones for beginners. No matter which kind of drone you are looking for, you will need to consider a few things before you buy it. We have come up with an extensive guide that would let you choose based on the price range, usage, design and specifications.
Best Camera Drones – Quick Comparison
Product
Best Value
DJI Tello Nano
Image
Image
Image
Best Value
Image
Image
Also, check out Swami's take on the Best CCTV Cameras For Home Security In India
Types of Drones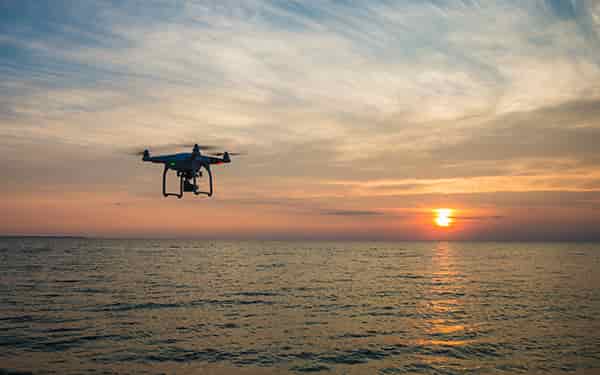 A drone is an unmanned aircraft which can or cannot be controlled by your smartphone or a remote that is operated from the ground. In fact, there happens to be a wide range of classification for drones. Size, aerial platform, usage, assembly are to name a few.
Based On Design
Each drone is designed to serve differently. The below classification defines the anatomy of each drone.
Single Rotor Drones
They are similar to helicopter designs with large and a small-sized rotor in the tail.
They are powered by gas engines for better endurance.
Widely used in Aerial Laser scanning, also known as LiDAR.
Expensive and requires experience to fly.
Multi-Rotor Drones
Most commonly used kind.
Preferred for aerial photography, film making, etc
Commercial and hobby drones are multi-rotor.
Tricopter (3 rotors), Quadcopter(4 ), Hexacopter (6) and Octocopter (8) are different types based on the number of rotors present.
Come in a varied price range, pretty easy to use and control.
Also, check out Swami's take on the Best Acoustic Guitars in India
Based On Use
The presence of a camera in a drone has led to its extensive usage like photography, surveillance, recreation etc. People have found innovative ways to utilise the built-in camera in a drone. For this reason, we have another method of classifying drones.
Selfie Drones
Offers better aerial view, top picked by hobbyists for indoor and outdoor flying.
Easily portable.
Available from cheap to expensive models. For example,
Hobby Drones
Popular kind for drone enthusiasts to play with their gadgets.
Usually flown outside, used extensively to capture aerial pictures, landscapes and videos.
Range from ₹3000 up to ₹90000.
Based on your experience level, you can choose your drone.
Syma X20 pocket drone is around ₹5000, DJI Mavic Mini almost up to ₹70000 or DJI Mavic Air (4K camera precision) more than ₹80000.
Racing Drones
Speed, flight time and size are the essential factors to consider.
Usual Standard drones are not designed for racing.
Can be RTF (ready to fly) drones, for amateurs like the ARRIS X90 . or DIY assembly drones, for serious races.
Serious drone racers prefer custom built and assembled drones.
Uses lightweight and durable carbon fibre material.
India has come a long way in drone racing since its first official race in 2016, organised by IDRL (Indian Drone Racing League). IDRL is India's official drone racing league which serves as a platform for racers to showcase their drone flying skills.
Also, check out Swami's take on the Best Digital Door Locks In India
Professional Camera Drones
Built with high-grade components and are failsafe.
Widely used by professional photographers, videographers, movie producers and short filmmakers as the cost-effective options available to capture their best aerial shot.
By all means, DJI Mavic 2 Pro is one of the top-notch professional drones with incredible specs, available in the market. Its sale price is under 2.5 lakhs.
Based On Assembly
BNF, RTF or ARF are a few ubiquitous terms used in the drone-world. Drones, based on how they are built fall into any of these categories.
ARF Drones
Stands for ARF or the Almost Ready to Fly drone.
Requires little assembly.
Have to solder and glue the parts that come with the kit.
Check for the product description before purchasing your kit.
DIY Drones
Do-It-Yourself drones.
You find your own parts and customise based on your requirements, lightweight for racing and bulky ones to carry your payload.
Requires first-hand expertise and in-depth knowledge about the technology involved to put all the tiny components together.
BNF Drones
Bind and Fly drones.
Needs little assembly.
Does not come with a controller; you must have a compatible controller(RC).
RTF Drones
Pretty easy out of the box drones require no assembly and are ready to fly (RTF).
Regular charging of the battery for a few hours before flying is needed.
Also, check out Swami's take on the Best Cajon Drums In India
Based On Size As Per Indian Government DGCA
In the universe of drones, size doesn't matter; you can find drones from the size of a bee to the size of a small aircraft. Also called the UAVs (Unmanned Aerial Vehicle). With this in mind, the Indian Government's DGCA (Directorate General for Civil Aviation) has classified the drones based on the size as follows.
Nano Drones
Less than 250 gms.
Can fit narrow spaces.
Does not require registration by DGCA.
is a decent model for beginners sold under ₹3000, and DJI Tello Nano is slightly above ₹10000.
Micro Drones
Weighs between 250 grams to 2 kgs.
Has built-in GPS, small, sturdy, pretty much fun to fly.
Used in construction sites and geological fieldwork to reach tricky and dangerous places.
Jack Royal is a cheaper option at ₹4000, is about ₹14,399.
Requires registration in the government's Digital Sky website to be able to fly them.
Small Drones
2 kg to 25 kg category drones.
Comes with good camera quality, ideal for aerial photographers.
DJI Phantom 4 Pro V2.0 falls under this group costing around ₹1,70,000.
Medium Drones
Greater than 25 kg but less than 150 kg
Designed to carry heavy payloads, requires a lift and push for them to glide.
Used by the military, for surveillance and by first responders.
UK Watchkeeper is one such example.
Large Drones
Greater than 159 kg.
Almost the size of a small aircraft.
Extensively used in military, surveillance, combat operations in war zones.
General Atomic Series and Northrop Grumman RQ-4 Global Hawk, are a few well-known examples.
Medium and Large drones are mainly used in military war zones as a replacement for manned aircraft and to spy, in fact, they are not commercially available.
Also, check out Swami's take on the Best Graphic Drawing Tablets In India
Drone Laws In India
Flying a drone is legal in India, but there is always a catch. On December 1st, 2016 the Directorate General of Civil Aviation, a statutory body of the Ministry of Civil Aviation, issued a mandate called CAR (Civil Aviation Requirements) to fly drones.
Before you plan to fly a drone, you have to request permission from a mobile app that automatically permits or rejects your request. In brief, if you do not have permission to fly, you simply cannot take off your drone. This unique process is called the "No permission No take-off", managed by DGCA's new 'Digital Sky Platform', the first Unmanned traffic management platform (UTM).
Now quickly let's look the frequently asked questions about drone laws and regulations in India.
Also, check out Swami's take on the Best Karaoke Machines in India
Drone Laws FAQ
Are Drones Legal In India?
Yes, flying drones is legal in India.
What Drones Can You Fly Without Registering?
We can fly nano drones without registering within 50ft of ground level.
How To Register Your New Drone?
All RPAS (Remote Pilot Aircraft System), except nano drones have to be registered at the DGCA's website. You will be issued with a UIN (Unique Identification Number) for your drone.
Unmanned Aircraft Operator Permit (UAOP) is required to operate the drones.
Can Foreign Nationals Fly Drones In India?
No, foreign nationals cannot fly drones. They can lease their drones to Indian organisations who will register and obtain a UIN and UAOP for their drones.
What Is DGCA?
Directorate General of Civil Aviation is a statutory body under the Ministry of Civil Aviation.
What Are The No-fly zones?
As per the CAR regulations, airspace near the airports, State Secretariat Complex in the state cities, strategic military locations are No drone zones.
Where Can I Find More Information?
More information is available on the official website and here.
Also, check out Swami's take on the Best Dash Cams In India
Top Camera Drone Brands In India
Buying drones from well established and popular companies is always a safe bet. Owing to this fast-paced industry, top manufacturers have invested much in the research and development of cutting-edge features like the Safety and Regulatory compliant design, Full autonomy, Full airspace awareness, Real-time data delivery etc.
Now let's talk in detail about a few well-established drone makers available in the market.
DJI
DJI is the pioneers in making excellent quality consumer drones, a significant contributor in the world drone industry. Notably, Mavic, Phantom, Spark is a few high-quality products of DJI preferred by the drone flyers.
The Mavic Mini is the lightest and cheapest drone available. Mavic Mini Fly more combo includes accessories like an extra set of battery, propeller guard and a carrying kit and is priced under ₹70000. Phantom 4 Pro+ V2 comes with a 5.5 inch RC screen and a standard RC.
Autel Robotics
Autel Robotics is a US-based company that sells some of the advanced camera drones in the market today. I have to point out that their video recording has better 4k precision. is around ₹1.7 lakhs.
Syma
Syma is a China-based manufacturer of consumer drones. They have multiple options for new pilots to get them started with drone flying. Syma X20 pocket drone is around ₹5000.
Sky Viper
These are a pretty cheap variety of drones with a lot of drone options like the nano, stunt drones and drones with the amazing HD video quality. is around ₹2500.
Also, check out Swami's take on the Best Yoga Mats in India 
Top 8 Drones With Built-In Camera – Review
The available drone products in the market are overwhelming. With this in mind, I have listed the top 8 best drones available in India, considering a few factors pointed below.
Camera quality
Controllable range
Battery life
Design of the drone for better balance and control
Replacement options
Real-time data feed.
Budget
All of the products listed below have these features, and the difference between a top-quality and a mediocre product is usually the variance of specs.
This is indeed DJI's prime all-rounder product, beloved by professionals and drone hobbyists and this UAV is the priciest option available. DJI Mavic 2 Pro has the longest battery life and flies for 31 minutes. It is an excellent pick for aerial cinematographers and professional wedding photographers.
Omnidirectional Obstacle sensing is a feature which enables the drone to fly safely around obstacles by sensing obstacles from all five directions. Another key point to note here is the DJI GO App when installed offers some intuitive gesture control, camera control and live video feed.
---
In the DJI dominated drone market, Seattle based Autel Robotics is trying to show their presence. Significantly, these are the best drones not made in China. This model has pretty impressive specs with 30 min flight time and 7 km range. Additionally, it uses real- glass optics technology to capture pictures with a 12 MP camera with more details and colour.
The device's RC has a 3.3-inch OLED which helps you to live-stream data and get the feel of the camera view without a mobile device. But, on the negative side, Autel has not impressed a lot of drone enthusiasts due to its not so good video quality and its portability issues.
---
Surprisingly the smallest DJIs around, weighing 249 g, Mavic mini has a flight weight of about 31 minutes. A 12 MP Camera with 2.7k video quality is mounted on the 3-axis motorised gimbal to provide better stability. It has a dedicated RC providing a video transmission range of 4km.
QuickShots like Dronie and Rocket give you shots with excellent precision. The DJI Fly app has Creator Templates that help you to edit your video on par with a professionally edited video.
If you don't want to get into the hassle of registering your drone, this is your best bet.
---
Also, check out Swami's take on the Best Football Boots That You Can Buy Online In India
---
If you are looking to fly a DJI at an affordable price, this will be your choice. With a hassle-free out of the box flying, Tello has a flight time of 13 minutes. So, the first thing to remember is that the drone doesn't come with a controller. But you can control it with your smartphone. It has other DJI standard features like auto take-off, landing, 8D flips etc.
Also, check out Swami's take
Also, check out Swami's take on the Best Running Shoes in India
---
The kit includes qav250 carbon fibre with a 2200mAH battery, propellers, controller and a decent camera with 720p video recording, but does not come with a gimbal to mount the camera. Comes with an instruction manual, but no warranty.
---
This is one of the best drones for beginners in India, easily controllable with your smartphone. It's lightweight with a built-in GPS Intelligent position return system. The aircraft can be set at a certain altitude. Therefore, it stays stable for shooting. With a flight time of 9 minutes, the aircraft will return home, once the battery is low. The features include FPV live stream, one-click take-off/landing with the SYMA app, and "Follow Me". Syma X22 offers quite decent specs and is one of the best drones under 5000, although the only thing that concerns me is that the SYMA app is available in Chinese only.
---
Also, check out Swami's take on the Best Cricket Bats That You Can Buy In India
---
This pocket selfie drone with a 0.3MP camera does not come with an RC. You can download the Remote App to control with your smartphone. In fact, it has multiple flight speed rates and comes packed with all of the features like one key return, altitude hold, 3D Flip etc. Nevertheless, the live video feed has some lag, and lack of a physical RC makes it a little challenging to control.
---
Considered one of the leading brands of toy drones, these are the best drones for kids. I want to point out that it has Autopilot feature, one-touch stunts and 360-degree flips, with pretty decent camera quality, you can stream videos in your smartphone. Priced under ₹3000, this would be the best value for your money.
---
Also, check out Swami's take on the Best Sleeping Bags in India
Other Excellent Camera Drones
A few UAVs which almost made my list are –
Camera Drones – Buying Guide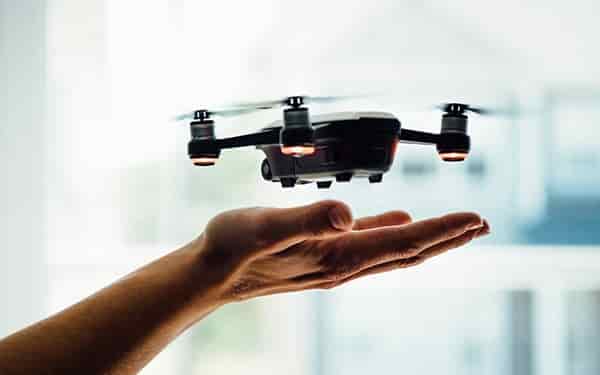 Lightweight drones are cost-effective and enable you to capture better videos, but drone racers might want faster drone options with better flight time, battery life and transmission range, whereas newbies might prefer a decent basic model. No matter under which category you fall into, I have listed the factors you might want to think about.
Range
One of the critical factors to consider, most drones have a range of 30 m. In the first place, a better range is the key factor in capturing better aerial shots from high altitude in photography. You can always compare the specifications mentioned in the buying guide with the reviews before purchasing your drone.
Battery Backup
Battery backup and flight time go hand in hand. The max flight time of a UAV is determined by its battery life. Top brand drones have a max flight of about 25-30 minutes. You have to remember and check the charging time for the battery. Few sellers give you an extra pair of batteries which can be replaced when the drone's battery dies off.
Also, check out Swami's take on the Best Backpacks in India 
Camera
Key features to consider if you are a vlogger, professional photographer, or want to buy a selfie drone. You have to pick the models with excellent image and video quality. Most importantly, an In-built camera with a wider camera angle is preferable.
Durability
Drones are built for crashing; if you are a beginner, you have to consider buying a durable copter definitely. Crashes can happen due to a few malfunctions, like, power failure, weak GPS signal or tree or wall obstruction. With this in mind, drones with a rugged frame, protective padding to safeguard its sensitive parts like camera, motor and the propeller guards are considered to be durable.
Power / Wind Resistance
Best drones are designed to fly in any circumstance. Larger and stable drones, for example, are better suited for outdoor flying with varying wind speeds. They are designed to operate in the high wind with greater power. On the other hand, lighter drones do not have much wind resistance.
Replacement Parts
When you crash a drone and need a fix, availability of replacement parts is pertinent. Before purchasing a drone, ensure if your replacement parts are readily available from manufacturers or sellers.
Budget
Drones are available from around a few thousand rupees to few lakhs in the market. So, serious buyers should go for a higher price range for a better flying experience.
Other Factors
Live feed feature – to capture and send either your RC or your smartphone
Warranty – subsequently after a crash, low cost or free repair service for a limited warranty period provided by the manufacturer.
GoPro compatible – If your model is GoPro compatible, remodify it to add the GoPro mount – the gimbal to fix your GoPro before using it.
Also, check out Swami's take on the Best Baby Car Seats In India 
Camera Drones FAQ – Frequently Asked Questions
A few frequently asked questions about the camera drones are listed below.
Can I Use Drone Cameras In India?
Yes, however, you have to register all your drones other than nano drones with the Indian government's Digital Sky platform. Nano drones are currently exempt from registration for flying it up to 50 ft.
How To Learn To Fly A Drone?
You can learn to fly a drone in less than 5 minutes. All you need is a little practice to get the hang of your copter.
Can Drones Carry Any Weight?
One of the primary purposes of commercial drones is to carry a heavy payload. Based on its design, size and weight, drones can carry from 18kg – 220kg
How High Can Drones Fly?
According to the DGCA's website, you can fly your UAV high as 400 ft from the ground level.
Can Drones Fly Over Obstacles?
Most of the high-end drones come with the obstacle avoidance system. Sensors present in the device help to detect obstacles and fly over or around them.
Is Drone Racing Happening In India?
Yes, IDRL – Indian Drone Racing League is India's official platform for drone racing. Since 2016, IDRL has been hosting races. Check their website for the latest events.
What Is Drone FPV?
FPV is First Person View or Remote Person View. It's the live feed you receive from the camera when flying an RC controlled UAV from the ground.
What Are Drone FPV goggles?
This is a must-have gadget for drone racers to get a good FPV experience.
Also, check out Swami's take on the Best Hiking Shoes That You Can Buy Online in India
Conclusion
To sum up, I feel the DJI Tello Nano is a good option. With its affordable price, DJI never fails.
But if you are a novice and are just here to have some fun, go for the Syma X22V Pocket Drone . This nano drone will not fail to impress you.
Given these points, choose wisely before picking your drone. Do not hesitate to shed a few extra bucks if you want your drone flying experience to be pleasant and memorable. Be responsible and follow the Dos and Don'ts mentioned in the DGCA site.
So, what are you waiting for, buy your favourite copter and get it flying (or crashing)!!
---
---
We hope you love the products we recommend! Just so you know, Swag Swami may collect a share of sales from the links on this page.